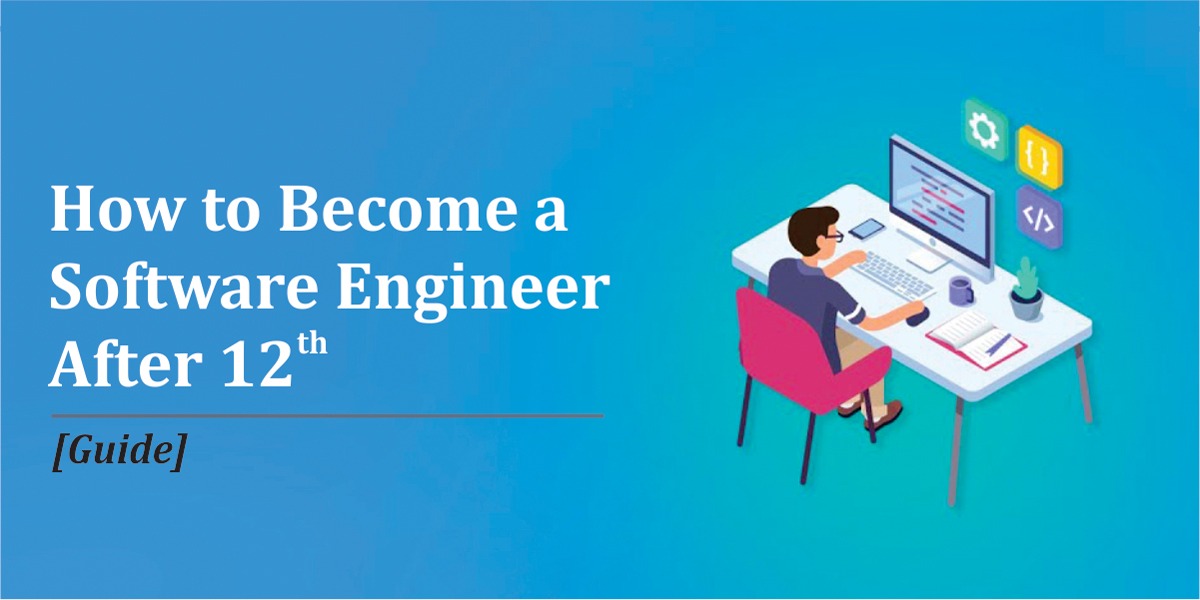 How to become a software Engineer After 12th [Guide]
Introduction
Who is a Software Engineer?
Software engineers are trained professionals tackling computer systems and applications through their knowledge of programming languages and network control systems. Their responsibility includes building, designing and maintaining software systems as well as testing and improving them from time to time. They are adept in writing code and work towards the best interest of the organization they're working for, which can include client consultation, stakeholder management and coordination with security specialists.
Skills and Qualifications Required To Become a Software Engineer
Technical Skills
Communication Skills
Attention To Detail
Programming Knowledge
Problem-Solving Abilities
Critical Thinking
Data Structure And Algorithms Knowledge
Courses That Lead To a Career in Software Engineering
1. B-tech in Computer Science and Engineering — this is a four-year undergraduate degree in CSE as a specialization. This is the most suitable and direct path if you want to carve a lucrative career in software engineering. Explore more about the B tech Computer Science Engineering
2. B-tech in Information Technology— this career field is more or less the same as B-tech in computer science engineering as there is not much difference between information technology and computer science.
3. Bachelors Of Computer Application— Commonly known as BCA, this course involves the same scope of the study as CSE does except it involves more direct and specific knowledge of the course as it is a bachelor in computer applications albeit technology as a whole.
Reasons to Become a Software Engineer
1. High Salary Range — qualified software engineers get to work at extremely fulfilling packages due to their vast area expertise and application of the knowledge gained.
2. Tech-Driven Career Field — Software engineering is a technology-oriented field that can take a professional to great heights in their career.
3. The Course of the Future — CSE is a futuristic course because of its technology-centric application which is only bound to expand in the upcoming years.
4. No Scope of Obsolescence — Computer science engineering is a recession-proof career as it's a known fact that computer systems will not go out of use.
5. Fruitful Prospects — the opportunities in this sector are diverse and every effort pays off in wondrous ways. There is a lot of scope for engaging in new and promising prospects.
6. Encompasses All Industries — one great thing about the CSE line is that its requirement persists in every industry. Whether you're working in the educational sector or corporate sector or e-commerce sector, the need for software engineers is omnipresent.
7. Rich Learning Curve — There's a lot of learning to go when you're a software engineer because you get to work on new and more enriching projects. As much as the work is complex and challenging, it is equally exciting as there's an abundance of practical knowledge to unfurl.
8. Option of Remote Work — Software engineers can work from anywhere in the world, the comfort of their homes included. Since their operations mostly involve working with a computer, they can save travel/ commute time if their organization permits.
9. Job Security — Software engineers mostly have permanent full-time jobs because of extensive orientation and initial training. Companies invest huge amounts to train and acquaint them with the scope of work so they do everything to retain them.
10. High Demand— Software engineers are in great demand which means the job market is always open for them. New technologies emerge and so do the ever-expanding work horizons. This means that their demand is constant as there are always new systems to test, operate, design, enhance, and update.
How to Become a Software Engineer after 12th in 9 Easy Steps
1. Prepare for your JEE exams
This may be the stepping stone for you to get admission to a promising engineering college. JEE is that one exam which, if you target, then you'll easily be able to crack any other exam due to the lesser level of difficulty. Once you crack this or any entrance exam you've aimed for, be assured it's going to be a game-changer for you.
2. Get admission into a good college
Getting admission to a decent college is important because of its statistics. The better the college, the more opportunities you get in terms of placements, competitions, company exposure, and industrial practice. Looking for B tech Admission in Delhi NCR
3. Take-up side short term certificate courses
Applications like Coursera and Udemy offer specialized courses curated by various industry leaders and/or foreign universities. Whether you want to learn public speaking or get better at some computer language, these apps can be your best resort.
4. Become a freelance coder alongside
Through effective networking, software engineering students can take up freelance gigs and get a chance to work on multiple projects. That way, they can learn new things, expand their expertise and cultivate a wide range of networks to explore future prospects.
5. Apply for promising internships at MNCs
Remember, the more internships you take up, the better you get at what you do. Each experience unfolds a learning curve. An internship not only prepares us for a corporate environment but also installs other soft skills like effective communication, decision making, teamwork, and problem-solving.
6. Maintain your percentage at college
While it's a known claim that skill-set reigns over percentage, you can't deny the fact that it's a bonus to have a good grade point throughout so you show it off and use it to your advantage while looking for opportunities.
7. Be active in projects and workshops
Your college must organize a lot of relevant programs, competitive and information. Your resume needs to possess these participations as well as wins so your passion for your area of work is reflected. For CSE students, they include Hackathons and many more. So don't shy away from getting that certificate!
8. Learn new and relevant skills
Upskilling is something that should never get out of habit. As an engineer working in the computer domain, there is always something new to grasp initially and then master. So much change keeps happening around us each day, so many new discoveries set afloat, if we want a fulfilling sense of recognition, and this is something we should always do to set ourselves apart.
9. Apply for a job
The last thing you've got to do on your path to become a software engineer is this. If your college offers campus placement, then it won't be much of a task for you, given you prove your value and competency to the company you've applied to.
Conclusion
To say that software engineering is a good prospect would be an understatement. Simply put, considering the situation and technology upheaval today, it is easily the most rewarding and fulfilling career field out there. Becoming a software engineer can be the turning point of your life and can render great possibilities for you, as well as open up a flowing stream of income, thereby taking your career to great heights. In this article, we have covered all the information needed by students on their path to becoming software engineers. In 9 easy steps, you can become the exceptional professional that people will remember by your abilities and expertise in the field.