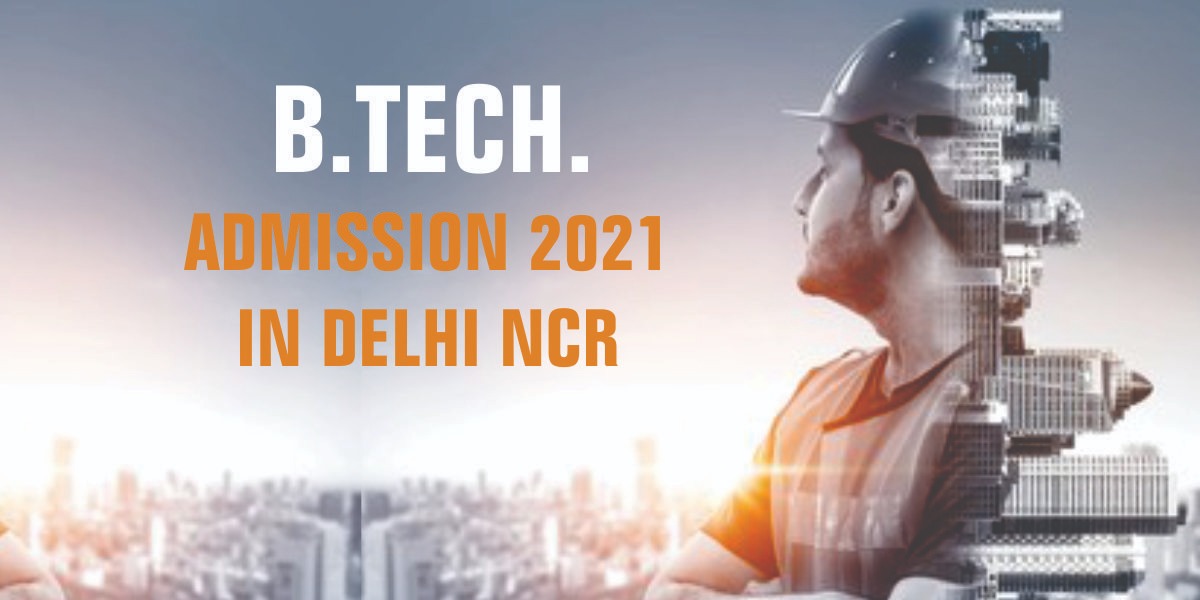 B.Tech Admission 2021 Delhi NCR – All about it
Introduction
As one academic year has passed, obscured in the shadows of a global pandemic, another awaits with open doors. Students looking to secure admission into B Tech courses in 2021 are all set to appear for entrance exams for various private and public colleges. To this date, it has been established time and again that engineering as a profession will continue to emerge because of changing business dynamics and the advent of modern technological advancements, especially in a developing country like India who's still exploring its industrial potential. With this notion in mind, a large number of students relocate to Delhi NCR every year on the lookout for quality education and to avail ample employment opportunities in the capital city. Presently, there are more than 4000 engineering colleges in India, which makes it a widely relevant profession.
Colleges in Delhi NCR Open for Application
Out of 4000 engineering colleges situated in India, 400 are from Delhi NCR alone. Not only does a btech degree offer higher employability to students, but it also brings them prestige, industry standing, and increases their net worth as a professional qualified in engineering technology. Let's look at some of the colleges in Delhi that are currently open for admission to Btech courses.
Lloyd Institute of Engineering and Technology
Greater Noida Institute of Technology
PSIT Kanpur
Sushant University
Jaypee University
IIMT University
Inderprastha Engineering College
SRM University
United Group of Institutions Allahabad
Ambika Institute of Management and Technology
Lingaya's Vidyapeeth
GD Goenka University
The Northcap university
BML Munjal University
Chandigarh group of colleges
Lovely Professional University
B.Tech: Course At A Glance
1.Full-Form: Bachelors In Technology
2. Main Course Specializations:
Computer Science Engineering/ Information Technology
Mechanical Engineering
Civil Engineering
Electrical Engineering
Electronics And Communication Engineering
3.Duration: 4 Years
4.Mode Of Admission: Entrance Based, Merit Score
5.Eligibility Criteria For Admission
12th Passed From A Recognised Board Of Admission
Minimum Required Percentage: 45% To 75% Depending On The Institute
Mandatory Subjects: Physics, Chemistry, Maths, English(In Some Colleges)
Must-Have Qualified The Required Entrance Exam
6.Average Salary Offered: 10 Lakh Per Annum
7.Current Trends: Internet Of Things, Artificial Intelligence, Electric Vehicles
8.Common Job Profiles: Software Developer, Communications Engineer, Design Engineer, Project Manager, Technologist, Automation Engineer, IT Specialists
9.Top Government Colleges: All IITs and NITs, Anna University Chennai, DTU Delhi, Jadavpur University Kolkata, Jamia Millia Islamia Delhi, GGSIPU Delhi, Coimbatore Institute of Technology, and more.
10.Top Private Colleges: BITS Pilani, Vellore Institute of Technology, Amrita Vishwa Vidyapeetham Coimbatore, SRM Institute of Science and Technology Chennai, Hindustan University of Technology and Science Chennai, Graphic Era University Dehradun, Bharati Vidyapeeth Deemed University College of Engineering Pune, and more.
11.Top Recruiting Private Companies: Microsoft, Samsung, Sapient, Morgan Stanley, Amazon, Accenture, Goldman Sachs, IBM, Qualcomm, Bajaj Automobiles, Google, Deloitte, JP Morgan, Tata, Flipkart, and many more.
12.Top Recruiting Government Companies: Bharat Sanchar Nigam Limited, Indian Space Research Organisation, Defence Research and Development Organisation, Bharat Heavy Electrical Limited, Railway Recruitment Board, Airport Authority of India, Steel Authority of India, National Thermal Power Corporation, Hindustan Petroleum Corporation Limited, and more.
Step by Step Admission Process For Btech Courses In 2021
1. Check Your Eligibility
Even though the broader requirements for securing admission into engineering colleges are similar, sometimes there are specific college-wise variations in the eligibility criteria. To avoid any last-minute ambiguity, students must visit the official websites of individual colleges to ensure that they satisfy the requirements of the college they're applying to. Students must also note that these eligibility criteria keep changing every year, thus making it all the way more important to keep themselves apprised of all such changes.
2. Online Registration For Entrance Exams
Once the students ensure that they match the eligibility criteria, the next most important thing becomes the registration process. Engineering aspirants must keep checking the official websites of conducting bodies like NTA (national testing agency) weeks before the tentative date of examination to keep tabs on the deadlines. It is advisable to get a print copy of the application form for future convenience.
3. Download Admit Card
All the candidates who have registered and paid the application fees can then download the admit card from the official website of the conducting authority on the specified date and keep it handy until the date of the examination. For students appearing for the JEE MAINS exam, the admit card can be downloaded via this link jeemain.nta.nic.in. This admit card is a crucial document that a student must possess on the examination day
4. Appear For The Exam
Candidates who have registered for their respective entrance exams are supposed to reach the examination center preferably before the commencement. Most exams, including JEE, are computer-based tests conducted within a specified time frame, usually 3 hours, and include MCQ based questions from Physics, Chemistry, and Maths. Important factors like duration, syllabus, pattern, number of questions, and mode differ from institution to institution.
5. Apply To Individual Colleges
Candidates are supposed to wait for their examination scores and ranks and check their eligibility for specific cut off lists released by colleges. If their rank falls within the acceptable range, then students must apply to individual colleges on their websites. The admission form contains all personal and academic details of the students and must be error-free.
6. Appear For The Counselling Process
Selected candidates receive a call letter from the college wherein they are invited by colleges to appear for the counselling process. This step typically involves the verification of documents, and allocation of specialisations in BTech based on the rank achieved. Counselling is the second last step before the admission of a student is confirmed, and it takes place on the campus itself.
7. Secure Admission
The confirmation of admission to a college happens only after the student has partly paid the first-year tuition fees, along with other specified charges. The student has to issue mandatory remittance in favour of the institution if he/she wishes to pursue education from the said college in the program offered after counselling. This step is final and substantiates the entire admission process.
Scope of btech in 2021
Metaphorically speaking, technology can easily be considered the modern-day equivalent of oxygen. People consume information on a daily basis through the medium of technology. Not just that, a plethora of global, social, economical, and environmental issues are solved through the integration of various domains of technology, which can only be fostered by deep knowledge of systems in engineering. Along with this, current trends that contribute to innovation and design thinking are custom products of engineers and technologists. This profession over the last few decades has gained worldwide momentum, which has unleashed the hidden potential of technology and pursuing a degree in Btech is the founding ground for that. Thus, the scope of engineering in 2021 is not limited to academia but industry as well, and there will only be an increase in the job market for engineers in the upcoming years.
Hence, pursuing B.Tech courses from the most academically vital city in India- Delhi, can open the doors of success for students by offering them unmatchable future prospects, a consistent knack for growth, and giving them an edge to become technically learned, career-oriented, and distinguished leaders of the future, in tens of hundreds of industries.