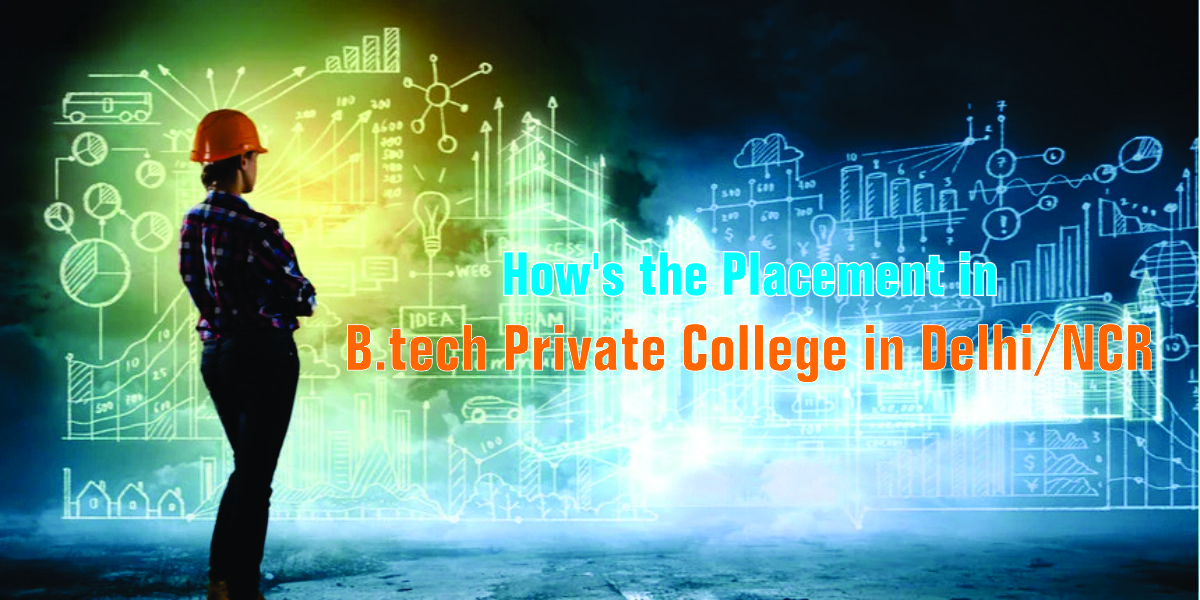 How's the placement in B tech Private College in Delhi NCR
Introduction
Why Is Doing Btech In 2021 Beneficial?
Along with being a field with one of the most diverse branches in the domain of technology, pursuing a BTech in 2021 comes with its own share of advantages. The distribution in the concentration of knowledge in engineering makes up a very versatile, futuristic, and instructive curriculum. The structure of education that entails engineering puts the students ahead of the technological developments and advances taking place and allows them to bring in a positive contribution to the process. Technology has also become the backdrop of every thriving business, especially in times of disruptive digital transition. BTech degree in 2021 along with holding up the professional edge, is also personally rewarding in terms of career growth avenues, leadership potential, as well as pecuniary benefits.
Why Does A Placement Status Of A College Matter?
The placement status of a college determines its potential of catering to the long-term career goals of a student. When it comes to campus recruitment, it is mutually beneficial to all the three parties involved — the institution, the companies, and the students. Through placements via college, resources get consolidated in one space and become viable, which in turn, saves the time of students looking to work and companies looking to hire.
Secondly, a subtle assurance about the credibility of both parties underlines this charade. This also significantly increases the chances of the students actually getting hired right after their degree is completed. In the case of engineering, getting placements outside of campus can be tricky because of the competitive nature of the degree. For this reason, it is often best to check the placement rating of the college on various education portals like Shiksha, Saryagyan, Collegedunia, and Careers360, as well as read the organic reviews to get an insight into the actual system
List Of Top 12 Private Colleges With Their Placement Percentage
Placement percentage acts as a standard criterion to enlist the viable colleges and understand their placement metrics in a nutshell. The following is a list of the top 12 colleges all over India offering BTech programs and the placement percentage for the latest academic year of the college. This should give you an insight into the campus recruitment record of the colleges.
| Sno. | Name of the college | Placement percentage(latest academic year) |
| --- | --- | --- |
| 1 | Manipal Institute of Technology Manipal | 83.42% |
| 2 | SRM Institute of Science and Technology Chennai | 72.22% |
| 3 | Dayananda Sagar College of Engineering Bangalore | 75% and above |
| 4 | Vellore Institute of Technology Vellore | 95% |
| 5 | BharatiVidyapeeth Deemed University College of Engineering Pune | 89-90% |
| 6 | Birla Institute of Technology Pilani | 99% |
| 7 | Shiv Nadar University Greater Noida | 93-95% |
| 8 | Maharaja Agrasen Institute of Technology Delhi | 60% |
| 9 | KJ Somaiya College of Engineering Mumbai | 75% |
| 10 | Nirma University Ahmedabad | 95% |
| 11 | KIIT University | 80-90% |
| 12 | Chandigarh University | 60-70% |
Top Private Colleges And Companies Offering Campus Placement
Manipal Institute of Technology Manipal: Goldman Sachs, ICICI Lombard, Oracle GTA, Oyo Rooms, Reliance Industries, KPMG, L&T construction, Mahindra & Mahindra PPO, Samsung R&D, Impetus, Deloitte, Cactus Communications, and more.
SRM Institute of Science and Technology Chennai: Tata Consultancy Services, Tata Chemicals, Ford, L&T integrated, Google, HSBC, Wipro, Cognizant, Cafe Coffee Day, Deloitte, Hindustan Unilever Limited, Accenture, Johnson Control Ltd.
Dayananda Sagar College of Engineering Bangalore: Infosys, HCL, Accenture, IBM, WIPRO, Mercedes Benz, SASKEN, Tech Mahindra, Mahindra Satyam, NOKIA, TESCO, Novell Software Ltd., Cap Gemini, I Gate, HP, Mphasis, Volvo, ICICI, KPIT, HSBC, Thomson Reuters, D-Link, Oracle.
Vellore Institute of Technology Vellore: Infosys, Yamaha, ITC, Toshiba, Google, Amazon, Microsoft, Tata, Honeywell, Volvo, IBM, swiggy, escorts, MRF, Godrej, Britannia, Sapient, Whirlpool, Myntra, Ernst & Young, Oracle, Qualcomm, Titan, Hyundai, Mahindra Finance, Yatra.com, and more.
BharatiVidyapeeth Deemed University College of Engineering Pune: Emirates Dubai, Qatar Petroleum, Musigma, Amazon, Willis Tower Watson, HSBC, J. P. Morgan, Jaro Education, GE Digital, Veritas, Trident, Ashe Marketing, Business Octane, TCS (Digital), KPIT, Capgemini, Byju's, Hitachi, Infosys, Accenture.
Birla Institute of Technology Pilani: Facebook, Flipkart, Accenture, Genpact, KPMG India, Microsoft, Oracle, TCS, Dell, Deloitte, HCL Technologies, Myntra, Whirlpool, Cap Gemini, JP Morgan, byju's, Oyo rooms, HDFC Life, Cipher Technologies, Amazon, Adobe, IBM, Maruti Suzuki, etc.
Shiv Nadar University Greater Noida: Cognizant, Adobe, Goldman Sachs, Dell, Bank of America, Omax, Larsen and Toubro, Tata consultancy services, Amazon, American Express, Titan company, IBM, Morgan Stanley, HCL, HP, Paytm, Infosys.
Maharaja Agrasen Institute of Technology Delhi: Accenture, Wipro, Infosys, interra systems, Cognizant, Indian Air Force, global logic, new gen, Tata Power, Hitachi Consulting, azcom, Sapient, HT Media, Amazon, HSBC, Expedia, Boston Consulting Group, sanmar group, Holisol, etc.
KJ Somaiya College of Engineering Mumbai: Cisco Partner, Microsoft, Mahindra Rise, Tata, Infosys, Accenture, Deloitte, Oracle Financial Services, Cap Gemini, L&T Infotech, Godrej, Suzuki, and more.
Nirma University Ahmedabad: GVK power and infra, Nokia, Adani group, ICICI Prudential, Berger, Godrej and Boyce, Geometric Limited, HCL Infosystems, Hindustan Unilever Limited, Citibank, Samsung, Deloitte, Oracle, idea, IBM, Aditya Birla Group, Ranbaxy Laboratories.
KIIT University: Accenture, McKinsey & Company, Bajaj Auto, Cognizant, Escorts, Reliance Jio, GE Healthcare, Hindustan Unilever, Upgrad Education, IBM, HSBC, Tech Mahindra, L&T Technology, Amazon, Byju's, CapGemini.
Chandigarh University: Microsoft, Amazon, IBM, Hewlett Packard, SAP Labs, Hitachi, Deloitte, Ernst & Young, Grail Research, TAFE, John Deere, Schindler, Cognizant Technologies Solutions India Pvt Ltd (CTS), Capgemini India Pvt Ltd, Wipro Limited, Tata Consultancy Services Ltd (TCS), DXC Technology India Private Limited.
Important Factors to Know About Campus Placements
While the names of these companies themselves are a testament to the number of ways they can benefit a student, it is always advisable to look at the highest, lowest, and average annual package being offered.
Instead of scrounging through the education portals for the placement record of a college, the students should visit the official website of the institution, go to the placement portal, and check the statistics there.
Almost every college or university releases an information brochure which entails every single detail about the placement including the year-wise growth chart, the names of the companies, the number of students placed every year, the total number of companies visiting the campus, and every other minute detail. The students must go through these information brochures thoroughly before finalizing a college.
When it comes to shortlisting and finalizing a college, placements are not the only criteria that should be looked up independently, but in a combination with several other facts of higher education like courses offered, location, resources, infrastructure, faculty record, and various others.
Conclusion
Lastly, the placement percentage might be a good mark of identifying your future opportunities with regards to the college that you choose, but it must also be noted that individual capabilities are not determined by a mere percentage. The percentage of placement of a college is also driven by the future goals of students studying there. Some might want to pursue higher education, some might want to pursue a degree in an unrelated field, and some might want to do a different thing altogether. However, campus placements in private colleges will always be the most effective determinant of the long term career path, as initial opportunities are a kickstart to where a student will professionally land some years later, and thus, should always be kept in mind while searching for the perfect college that meets your suitability both professionally and personally.