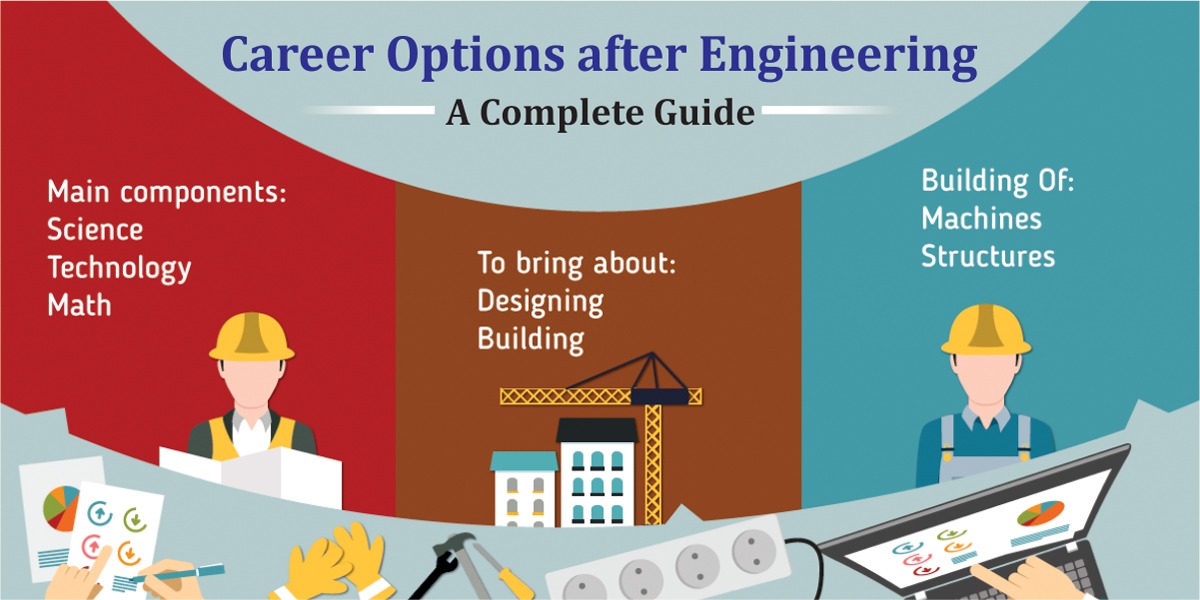 Career options after Engineering – A Complete Guide
Introduction
Engineers have a vital role to play in India's rapidly evolving economy. The adequate combination of physics, chemistry, and mathematics capacitates the emergence of modern, useful technologies using innovation and creativity as the core element. In the recent decade, many inventions have been made possible with the expertise that engineers hold. Many talk a good game, but engineers are creators. The integration of principles of science and technology with ample research devise practical systems critical to problem-solving as well as making human life more convenient.
Various Branches of Engineering and Why Should You Pursue Them
1) Reasons to pursue Mechanical engineering - Mechanical engineering is unquestionably among the most competitive and future-oriented professions. Mechanical engineers are a crucial force in preserving and changing the economic landscape due to their substantial effect on innovation and the design, structure, and development of successful mechanical systems. Students can become successful future mechanical engineers by combining a well-rounded bachelor's program with internships, Collaborative Education activities, scientific work, summer work opportunities, and industrial exposure.
2) Reasons to pursue Computer science engineering IT is one of the highest-paying industries, with a wide range of employment and career opportunities. Along with working in the core sector, IT engineers can work in non-IT companies such as institutions, research, private and governmental enterprises, major corporations, organisations, and the manufacturing sector. One of the greatest advantages that CSE professionals have is job stability. They can work as developers, system administrators, and other roles. Computer science vs Computer Engineering
3) Reasons to pursue Civil engineering The construction industry in 2022 is a fast-paced sector that is seeing significant advancement. Civil engineering is a wide field that requires a correct harmony of technical and artistic involvement, from conducting the building, layout, and administration of structural systems to delving into the more intricate parts of it. Civil engineers enjoy some strong career benefits that can take students to the peak of their profession if given the right direction.
4)Reasons to pursue Electronics and communication engineering ECE engineers have a myriad of work opportunities to select from, with new job prospects arising regularly, thanks to their in-depth knowledge and essential talents. As innovative people and efficient learners, electronics and communication engineers can enhance, transform, and even completely reconstruct the technological appearance of today's and tomorrow's worlds
5) Reasons to pursue Electrical engineering Owing to technological breakthroughs and constantly developing infrastructure, the necessity for all sorts of engineers, especially electrical engineers, is on the upswing. Electrical engineering is growing in important areas like wireless communications and mobile technology, as well as cross-study domains like nanotechnology and biomedical engineering; as a result, these are the areas to keep a close eye on, as they have a remarkable growth. As the economy shifts toward renewable sources of energy like hydro, solar, and wind, global corporations are searching for power generation experts.
Read Also - Aeronautical Engineering Career path
Career Options after Engineering
1. Technical Jobs— simply put, core jobs are those jobs that are given to students in the same field as they've pursued their specialization in. they're also called core jobs. Engineers are most popularly recruited in companies where they can offer their technical expertise, more often than not, in private sector national and international corporations. Some of the most famous companies are Amazon, Google, Sapient, Infosys, Tata Consultancy Services, Flipkart, Wipro, Ernst and Young, Sony, Reliance, Havel's etc., depending upon the branch of engineering the student has majored in. Some of the job profiles as per the B tech specialization are mentioned below.
2. Government Jobs— Engineers who pass the M-tech programme have the option of working for the government. While this need may not be required for all occupations, it is certainly desirable. Students who have completed their b-tech in engineering can seek technical positions in different government firms if they received at least 65 per cent in their b-tech. Applicants who want to use their degree to serve in the military can apply for technical officer positions by taking tests such as CDS, AFCAT, and others. Working with the Indian railways is also a possibility in this field of engineering.
3. Campus Placement— one excellent method to acquire jobs that you're competent and suitable for appearing for college placements. Also known as campus recruitment, this is an elaborate event where multiple companies from all over the country visit campus and conduct interviews to fill their vacancies. Engineers from all branches have the provision of sitting for campus interviews and securing their dream job.
4. Higher Education— students keen on research, or gaining more educational insight can skip finding jobs at all and pursue their Mtech instead. Pursuing a postgraduate degree exacerbates the opportunities available for students, and helps them fetch a much more fulfilling job prospect.
5. Consultancy Firm— various consultancy firms stand as the middle person between clients and service providers. Mostly, these are international companies with huge batches of openings. Students can leverage their acquired skills, practical experience and knowledge gained at campus to start their own consultancy business, or secure a promising and profitable job in one.
6. Entrepreneurial Venture— students who wish to contribute to the brooding startup culture in India have a very promising opportunity in the tech sector. Entrepreneurs are bringing innovative solutions to problems using modern age technologies. Every industry is exploring the depth at which it can leverage software engineering. For example, applications like dream11 and rummy circle etc. are evolving in the gaming industry, thus giving a boost to the digital economy. Artificial Intelligence, Cloud Computing, Data Science etc. are used in such ventures to engage users.
7. Non-Core Jobs— these are jobs acquired based on interests, which may or may not have anything to do with the course or degree pursued formally. Students can take up many such jobs which involve posts like Artists, Freelancers. Front Desk Officers, Receptionists, Writers, Designers, and many more.
8. Academician— teaching jobs are an evergreen career path no matter what course you have pursued. Tech students can pursue their masters, and/or enroll in a research fellowship, as well as apply for NET or other centralized exams to commence their teaching journey with a university. Private universities sometimes offer assistant level positions to professionals with ample corporate experience, as they bring in a tinge of corporate readiness, freshness, and practical approach to the studies.
Career Profiles of Popular Engineering Branches
Career Profiles of Mechanical Engineering
Mechanical Device Engineer
Process Development Engineer
Manufacturing Engineer
Packaging Engineer
Mechatronics Engineer
Systems Engineer
Plant Engineer
Power Engineer
Design Engineer
Consultant
Career Profiles of Electronics & Communication Engineering
Design Engineer
Embedded Engineer
Software Engineer
Quality Analyst
Data Analyst
ASIC Engineer
Network Support Engineer
Technician
ECE Engineering Consultant
Chief Technical Officers
Career Profiles of Civil Engineer
Architectural Engineer
Structural Engineer
Engineering Consultant
Transportation Engineer
Aerospace Engineer
Project Site Inspectors
Project Managers
Analyst
Chief Technical Officers
Geotechnical Engineer
Career Profiles of Electrical Engineering
Telecommunication Engineer
Systems Engineer
Aerospace Engineer
Micro Electrical Engineer
Control & Instrumentation Engineer
Quality Control Engineer
Broadcast Engineer
Test Engineer
Electrical Design Engineer
Nuclear Engineer
Career Profiles of Software Engineering
Data Science Analyst
Machine Learning Engineer
Computer Animations & Ui/Ux Design
Software Developer
Blockchain Developer And Engineer
Computer Network Architect
Database Administrator
Security Analyst
Cloud Computing And DevOps
Game Developer
If you're a student looking to explore the many benefits of working in the tech sector, pat yourself for you're in the right direction. The various career paths listed in this article can be your way to climb right to the top in your dream profession, along with reaping pecuniary advantages.