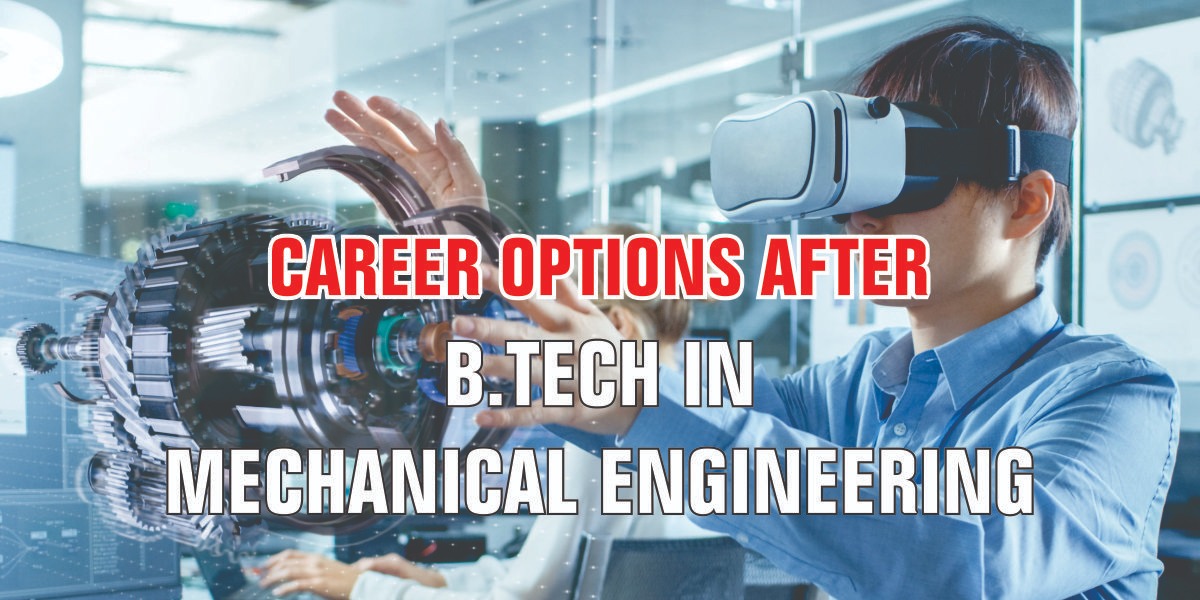 Career Options After B.Tech Mechanical Engineering
Introduction
Mechanical engineering as a profession deals with the research, designing, and manufacture of machines that either produce power or consume power to solve problems or serve a purpose. From the making of computer hard disk drives in the IT industry to the creation of prosthetic limbs and surgical tools in the medical industry, the application and use of mechanical engineering are seen everywhere. Thus, it might be safe to say that mechanical engineering encompasses a wide range of technologies that add up to its omnipresent nature.
Mechanical Engineers play a significant role in the process of a business cycle. Whether it involves meeting customer's needs or contributing to the greater good by benefiting society through their technical expertise in research and development, a mechanical engineering degree holds immense value.
Top 10 Options after Pursuing B.Tech In Mechanical Engineering
1. Post Graduation, M.Tech In ME
A postgraduate degree in mechanical engineering, or any other engineering domain for that matter, enables a student to gain more subject matter knowledge, especially about the specificities it entails. This can lead to better job prospects in future, and also opens up the chance to work in the research sector by taking up further PhD and work as engineering scientists.
2. Internships
Usually, students pursue internships in their last semester, but they can also take up one after the completion of their b. tech degree in mechanical engineering, to gain more thorough industry experience before kick-starting their career. A lot of times, students manage to get employed at the same firm they intern at and continue working at leading positions.
3. Government Jobs
Government organizations like DRDO, the ministry of defence, institutes like IIT, IIsc, national research laboratories, and various state departments have openings for mechanical engineers at several posts. Engineering graduates can apply for them after ensuring they match their required criteria. It's not easy to reach there as a beginner, but it's certainly not impossible if you can prove yourself capable.
4. Private Technical Jobs
This is usually the most sought option for maximum engineering graduates. They take up vocations in various large trade names, thorough campus placements or independent application. Most engineering graduates are placed at high annual packages and are given leading roles due to high demand. In the current times, engineering is supposedly the only profession that is immensely promising and profitable at the same time.
5. Teaching Jobs
Being experts at mathematics and physics, engineering graduates can pick up tutoring as a side/main vocation and teach high school students. They can also teach more specific engineering subjects at the university level up to a certain semester until they gain more finesse. Students who wish to advance this line of career can take up professional courses like B.ed or enroll in PhD to become a teaching assistant at colleges.
6. Non-core Jobs
There is no hard and fast rule that an engineering graduate only has to work in an engineering-related company/ position. There are certain marketable skills that engineering graduates gain throughout their education, like data analysis and interpretation, aptitude skills etc. Sometimes these skills are highly desirable at top companies and students are hired for positions Analyst, Technical Advisor, and many more.
7. Freelancing / Consultancy Services
Mechanical engineers can offer their Consultancy Services to a wide variety of industries and provide significant technical advances based on their knowledge. This includes Industries like rubber manufacturing, plastics, computer and electronic products, utilities, petroleum and coal production and many more.
8. Career Shifts
Engineering graduates can pursue any other degree they wish to for changing their line of career. Whether you want to go into business, finance, or even law, engineers make the best professionals because of their extensive knowledge of core subjects that form the foundation of many significant professions. Pursuing any other undergraduate degree after b.tech is a great place to start.
9. Entrepreneurship
We're living in the era of massive technological advancement, which has birthed some of the most distinguished and reputed companies. This has also been a driving factor for the start-up culture, which has been rising at a fast pace in India. Many engineering graduates commence and run their enterprise after gaining some experience and thus advance the services they excel in.
10. Management Sector
A well-known fact about engineers is that they can be exceptional managers because of their deep understanding of working mechanisms, practical knowledge, industry-focused education, and ability to work under pressure, as well as getting things done. In fact, engineers are often hired to work at managerial positions in various high-tech companies. Thus, the option of setting their foot in the management sector is viable for engineering graduates.
Top Industries That Employ Mechanical Engineers
1. Automobile Industry
Mechanical engineers gain first-hand knowledge while working on the next generation of automobiles and providing inputs on the components, modules and systems that add up to the design and creation of vehicles.
2. Medical Industry
Mechanical engineers are in great demand when it comes to working in the medical sector because of their significant contribution in developing aids for the disabled, equipment required to facilitate diagnosis, designing surgical tools according to their usage, and other necessities like prosthetics.
3. Energy And Power Generation
Sustainable development has been gaining traction in recent times. The role of mechanical engineers in enabling this cause includes the designing and analysis of more sustainable forms of energy, the means to fetch them in a set time frame and make them more accessible for the general public.
4. Agricultural Mechanization
From the development of powered Tractors to high capacity irrigation pumps, there is no denying that mechanical engineering has been a blessing in the steps taken towards the automation of the agricultural sector. This has eased out a lot of processes that otherwise would have taken massive human input.
5. Computer-Aided Technology
IT and computing have transformed the face of mechanical engineering over the years. Now, many corporations and industries rely on computer-aided design processes to facilitate the practices of mechanical engineering. Therefore, this integration has led to more job prospects for mechanical engineers.
6. Aerospace Industry
The significant contribution of mechanical engineers in facilitating commercial aviation has led to a massive upsurge in the economical development of the country. This industry heavily relies on engineers and technical experts for its operations, in turn increasing the employment opportunities available for mechanical engineers.
Job Profiles After Pursuing B.Tech In Mechanical Engineering
Systems Engineer
Applications Engineer
Plant Engineer
Renewable Energy Consultant
Manufacturing Engineer
Engineering Consultant
Mechanical Device Engineer
Mechatronics Engineer
Process Development Engineer
Design Engineer
Electro-Mechanical Engineer
Power Engineer
Packaging Engineer
Sales Engineer
Technical Content Writer
Conclusion
Keeping in mind the steady growth in employment opportunities for Mechanical Engineers as we progress towards a more modernized civilization, it would be a safe bet in saying that it is one of the most promising and futuristic career fields. Mechanical engineers are a vital force in sustaining and transforming communities and economies considering their direct impact on innovation and design, structuring, and development of effective mechanical systems. A balanced academic experience coupled with internships, Cooperative education programs, research projects, and summer employment opportunities, as well as industry exposure can go a long way in becoming successful future professionals working in the domain of mechanical engineering.