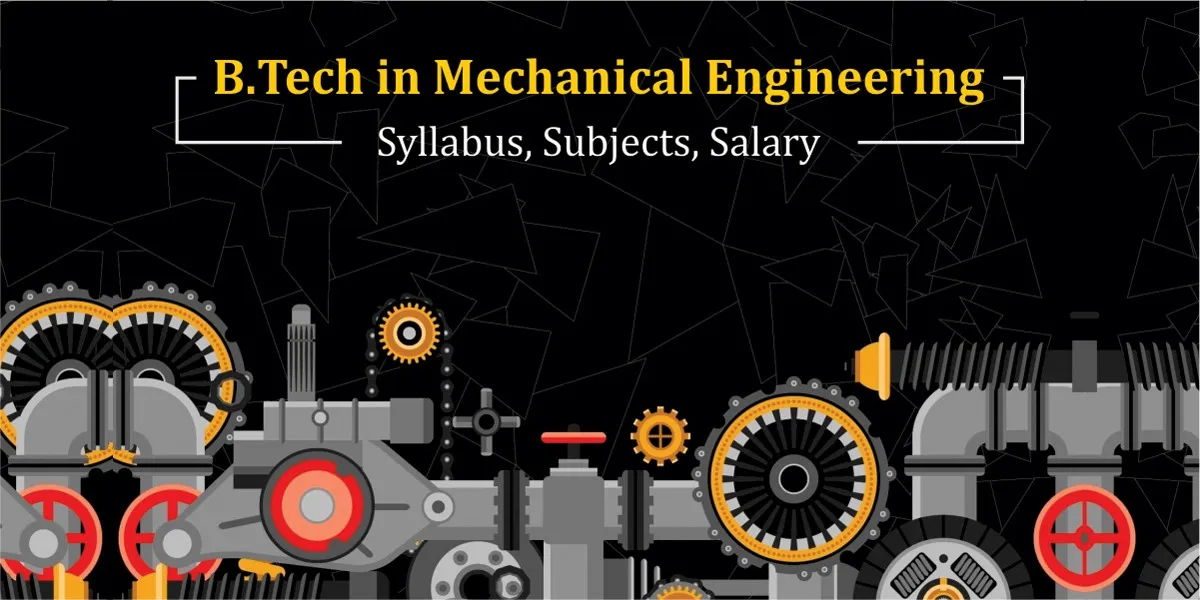 B tech in Mechanical Engineering: Syllabus, Subjects, Salary
Introduction
Mechanical Engineering has long been known as the most powerful and flexible branch of engineering, as demonstrated by the diverse industries in which the graduates work, including auto parts, industrial production, manufacturing, mechatronics, material handling, power generation, biomaterials, firmware, training, architecture, banking, finance, and consultancy services.
Pursuing mechanical engineering in 2022, or any domain of B tech Course per se is practically a bane for students in the current scenario. A course as updated, diverse, and ubiquitous as B-tech can help take the career's growth metric for a student to unmatched heights.
Syllabus and Curriculum of B-tech In Mechanical Engineering
The curriculum for B-tech mechanical engineering is extensive. The understanding of mathematics, science, and engineering basics is applied to generate answers to difficult engineering issues in the B.Tech in Mechanical Engineering programme. Approximately the curriculum tails components such as problem analysis and solution design to fit the domain's particular requirements. To design an experiment, analyse and interpret data, and synthesise meaningful results, research-backed knowledge and methodology are necessary.
Students learn how to work efficiently both independently and in groups on a variety of multidisciplinary subjects. Mechanical engineering students frequently have supervisory roles, therefore project management is an integral aspect of the curriculum. The program structure is divided into eight semesters and prepares students for varied technological dynamics in the business world, and teaches them how to work with types of equipment and system components more comprehensively through practical learning.
Semester Wise Subject Distribution
Mechanical engineers' key responsibilities include analyzing, conceiving, and designing the best, most suitable, ergonomic, and procedural mechanical systems using mathematics and science principles. For a myriad of purposes, this is a perennial professional discipline. For mechanical engineering courses, these are some of the subjects and semester-by-semester syllabus.
| Semester 1 | Semester 2 |
| --- | --- |
| Engineering Mathematics | Engineering Mathematics 2 |
| Basic Electronics | Engineering Graphics |
| Engineering Physics | Programming In Python |
| Introduction To C Programming/ Python | Material Science |
| Professional Communication Skills | Engineering Mathematics 2 |
| Introduction To Mechanical Engineering | Engineering Graphics |
| Semester 3 | Semester 4 |
| Special Functions And Statistics Applied Electrical Engineering | Fourier Series And Partial Differential Equations |
| Applied Electronics Engineering | Engineering Metallurgy Production Technology - II |
| Production Technology - I | Thermal Engineering |
| Strength Of Materials. | Mechanics Of Machines - I |
| Engineering Thermodynamics | Fluid Mechanics |
| Semester 5 | Semester 6 |
| Numerical Methods. | Turbomachines |
| Mechatronics | Automobile Engineering |
| Compressible Flow And Jet Propulsion | Design Of Mechanical Drives |
| Heat And Mass Transfer | Computer-Aided Design And Drafting |
| Mechanics Of Machines - II | Refrigeration And Air Conditioning |
| Analysis And Design Of Machine Components | |
| Semester 7 | Semester 8 |
| Industrial Economics | Management Principles And Concepts |
| Power Plant Engineering Metrology And Quality Control | Resource Management Techniques |
| Oil Hydraulics And Pneumatics | Elective |
| Electives To Choose From | Project Work |
Eligibility Criteria For Pursuing Mechanical Engineering In India
The eligibility for Btech ME is mostly similar across all institutions. Following are some of the criteria that students must satisfy to secure admission in an ME programme:
The applicant must have studied non-medical (physics, maths, and chemistry) in their 12th standard.

The students must have secured 45-50% marks in their 12th standard, and 60% in the case of institutions of national importance.

The students must have passed their 12th from a recognised broad of education.

The candidate should have appeared for engineering entrance exams like JEE mains and advanced, or any other as stated by the preferred cullege.
B-tech Mechanical Engineering— Salaries
The starting salary of jobs after this course can begin roughly from INR 5 lakhs per annum assuming the student has graduated from a tier 1 and tier 2 institution. If you top this with say, an experience of 5-6 years in this line, the figure doubles and would range somewhere between 8 to 10 lakhs. Likewise, the more experience you gain the higher up the ladder your mechanical engineering career climbs. The most fascinating aspect of working in this sector is that the growth rate is immensely high. Students or young fresher's have a promising chance of establishing themselves as industry leaders if their knowledge and background are par excellent.
Career Prospects after Mechanical Engineering in India— Industry Overview
Mechanical engineering's range and career opportunities are not only respectable but also exciting in the coming years. Mechanical engineering degrees are constantly in high demand since it is a foundational degree that is needed by practically every branch of study. Here are some of the largest sectors that are continuously on the hunt for qualified mechanical engineers:
Automotive manufacturing— The car business, as one of the quickest developing industries, provides mechanical engineers with a wide range of options. Some of the world's most prestigious automobile manufacturers have gotten involved in the recruitment of young talent for research and innovation of transit systems such as autonomous vehicles, high-speed trains, and spacecraft infrastructure, from conception through production and even upkeep.

Mechatronics and Robotic — Robotic process automation and technology nowadays are the brand - new topics of discussion. Just about every sector is seeking ways to improve productivity and save operating costs by implementing automation solutions. The execution of the same necessitates the monitoring and involvement of qualified mechanical engineers. Be it designing and building a new robotics technology or using an automation process for stock management, mechanical engineers have always had a pivotal function in robotics and mechatronics.

Manufacturing—Manufacturing is made possible by mechanical engineers. They develop and manufacture the machinery and technologies that produce and distribute the items that our rising population relies on, whether it's high-volume, mass-produced commodities or specialized, sleek hardware. They work on developing devices that are further supplied to multiple industries to assemble, collate, and dispatch.
Top 10 Career Profiles after Btech ME And Average Starting Salary
| Job Profile | Average Annual Salary |
| --- | --- |
| Systems Engineer | 4.1 Lakhs |
| Power Engineer | 4.2 Lakhs |
| Plant Engineer | 6.5 Lakhs |
| Renewable Energy Consultant | 3.13 Lakhs |
| Manufacturing Engineer | 4.07 Lakhs |
| Packaging Engineer | 5.3 Lakhs |
| Mechanical Device Engineer | 3.2 Lakhs |
| Mechatronics Engineer | 3.6 Lakhs |
| Process Development Engineer | 6.36 Lakhs |
| Design Engineer | 3.6 Lakhs |
Scope of Pursuing Mechanical Engineering In 2022
The scope of the mechanical engineering subject provides students with employment opportunities that extend beyond the sectors mentioned above. Whatever path they choose, a mechanical engineering education provides students with the creative thinking skills to create an exhilarating product or system; mathematical means of attaining their design objectives; the ability to tackle all constrictions; and the team spirit required to design, market, and produce a system. These significant talents may be used to establish careers in a variety of other disciplines, including medical, law, consulting, administration, banking, and finance.
Enroll for B tech Admission
Conclusion
Mechanical engineering is certainly one of the most viable and advanced professional fields as we progress toward a more mechanized society. Mechanical engineers are a crucial force in preserving and changing communities due to their substantial effect on innovation and the development, construction, and maintenance of efficient mechanical components. Students can become successful future engineers by combining a very well bachelor's program with internships, Cooperative Education programmes, research work, and summer employment prospects, as well as industrial training.