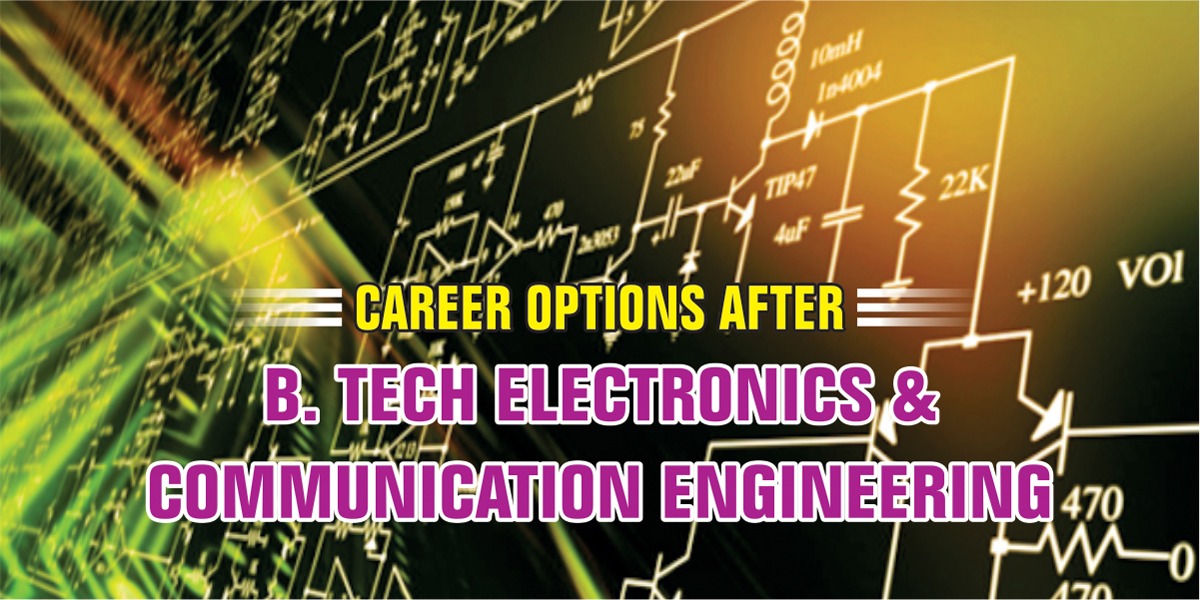 Career Options After B. Tech Electronics and Communication Engineering
Introduction
Humankind as a whole thrives on communication. Right from the everyday conversations between people of similar interests to those that create a mass influence, like radio, television and computers- communication forms an integral part in developing modern society. Therefore, electronics and communication engineers will always stand as a backbone to the communication systems as the necessity for better and efficient modes of communication hikes. The field, hence, requires bright and intelligent minds with a passion for innovation and invention to birth and develop state-of-the-art technologies that are a step ahead of the modern world.
Why study Electronics and Communication Engineering?
1. Compelling Necessity
We live in an era of technological advancement. Electronics have simplified a wide range of sectors including educational, industrial, medical, defence and research. Today, with circuits and systems present everywhere from the mobile phones in our hands to the satellites we send up in space, the demand for electronics engineers is an urgent and constant one. Without them, we would not only fail in innovating new and better automation but will also not be able to improve the existing one.
2. Futuristic Field
The past century has seen a high-curve growth in the field of computers and engineering. With our journey from 1G to 4G, we have seen exponential growth in analogue, digital, radio and telecom electronics. Machines have blended with the human world and made every single task simpler and time-saving. The future, as well, holds tremendous potential in the IT sector if we continue to follow this curve, as we aspire to. The developments in fields ranging from nanotechnology and robotics to high speed automated processors in embedded systems and image processors demand knowledgeable and skilled electronics engineers to monitor and lead them.
3. Diversified Specializations
Electronics and Communication engineering finds applications in numerous sectors to flourish not only an individual's professional dynamic but also help in taking bigger leaps for mankind. Whether you work as a scientist, design and development engineer, desktop support engineer, system control engineer, technology analyst, industrial manufacturer, technical sales and marketing person or even a technical writer- with electronics and communication engineering you can be sure of making your place in the betterment of the society.
Choices of Paths after Completing Electronics and Communication Engineering
1. Higher education
After the completion of their Bachelors in Technology in Electronics and Communication Engineering, students can opt for a Masters program in a specialized field of their choice. You can go for a Masters in Science in fields like Telecommunication Engineering, Microelectronics & VLSI Design, Electronics Design and Technology, Wireless Communication, Signal Processing, Robotics, Embedded Systems or VLSI System Design. If you aspire for managerial roles, you can go for a Masters in Business Administration.
2. Research and development
Electronics engineers can follow the M. Tech- Ph. D- Research path innovation and development is what interests them. Organizations like ISRO, DRDO, SAIL and BHEL lead in the research field and are ideal workplaces to engineer new and better technologies for the enhancement of the communication and signal systems.
3. Core Jobs
Students can opt for on and off-campus placements with reputed companies like Semiconductors, Alstom Corporate, Bharat Heavy Electricals, Havells, Crompton Greaves, Neolex Cables, HBM Power Systems, Exide Industries, Siemens, BSNL, Sony Ericsson, Reliance, Nokia and many more. The positions they can apply for include Design Engineer, ASIC Engineer trainee, Jr. Embedded Engineer or Network Support Engineer. The fields they will work in are circuit design, wireless communications, robotics, electronics, VLSI, Nanotechnology, Embedded Systems, Digital Electronics, Optical Communications, and Signal among others.
4. Non-Core Jobs
With sufficient knowledge of computers and coding, electronics and communication engineers can find jobs as assistant software engineers, junior software engineers, programmers, net engineers, quality analysts and similar positions. The top companies that recruit include Wipro, Tata Consultancy Services, Accenture, Infosys, HCL and Genpact. These companies provide a good pay scale and work environment.
5. Government jobs
Public service companies recruit electronics and communication engineers based on written examinations, their GPAs and skills. The common job profile is that of a technician and the organizations that hire include BSNL, MTNL, ISRO, DRO, and ONGC among others. Electronics engineers can also find jobs in financial services such as banks as technicians or junior engineers.
6. Start-Up
An electronics engineer with a buzz for business and management can go for a start-up in the ECE field, which holds less competition as compared to other fields due to a lack in the number of start-ups. With persistence and planning, an electronics engineer can build a successful start-up in any sub-field of electronics and communication engineering including VLSI, Robotics, Nanotechnology, Optical Communication, Embedded Systems, Digital Electronics and many more.
Job Profiles and Job Descriptions of Electronics and Communication Engineers
| S. No. | Job Profiles | Job Description |
| --- | --- | --- |
| 1. | Design Engineer | To work on the research and design of the new products for a particular company- draft and test prototypes, and ensure that the manufacturing process happens smoothly. |
| 2. | ASIC Engineer | To find and understand system complexities and devise solutions for the same thereby enhancing the system performance. |
| 3. | Embedded Engineer | To design and implement the software that is used by embedded devices and systems. To actively participate in every step of the software development life cycle and ensure that it happens smoothly and gets completed successfully. |
| 4. | Network Support Engineer | To ensure daily that the communication systems that organizations and individuals work on run smoothly and without any bugs, on both external and internal level. |
| 5. | Software Engineer | To identify the need for new software programs that may ease the work of a particular sector (business, gaming, etc.) and then design and develop them, while also working to improve the existing ones in terms of various factors like UI, speed and enabling of new features. Regularly check if the hardware and software of the system work properly. |
| 6. | Quality Analyst | To actively participate in and ensure that the development and planning of various test and process plans as well as test scripts for a project are happening smoothly. |
| 7. | Technician | To take part in the first few phases of the software development life cycle including prototyping, identifying potential threats and eliminating them. |
| 8. | Chief Technical Officer | To overlook the technical sector of an organization on a managerial level and work towards lining them to the overall growth targets of the company. |
| 9. | ECE Engineering Consultant | To act as a bridge between the client and the working team to make sure that not only are the client's needs being met but the technical solutions provided are by the industry regulations. |
| 10. | Data Analyst | To analyze raw data from different sectors of the company and derive meaningful results (as graphs, charts, etc.) from it to help in the decision-making for the company or client and ensure maximum profitable solutions. |
Job Profiles And Average Annual Salary Of Electronics and Communication Engineers In 2021
| S.No. | Job Profiles | Average annual Salary (in Rs.) |
| --- | --- | --- |
| 1. | Design Engineer | 4 - 5 lakh |
| 2. | ASIC Engineer | 20 lakh |
| 3. | Embedded Engineer | 16 lakh |
| 4. | Network Support Engineer | 3-4 lakh |
| 5. | Software Engineer | 4-12 lakh |
| 6. | Quality Analyst | 4.5 lakh |
| 7. | Technician | 2-2.5 lakh |
| 8. | Chief Technical Officers | 18 lakh |
| 9. | ECE Engineering Consultant | 20 lakh |
| 10. | Data Analyst | 5-8 lakh |
Conclusion
With the data compiled above, we can sufficiently deduce that a career as an Electronics and Communication engineer is not only professionally rewarding but aids in the complete development of society as well. ECE engineers, with their in-depth knowledge and core skills, have a wide array of career options to pursue, with new job opportunities opening up every minute. As brilliantly smart individuals and quick learners, electronics and communication engineers hold the power to enhance, alter and even completely redesign the technological face of today's world, and that of tomorrow.