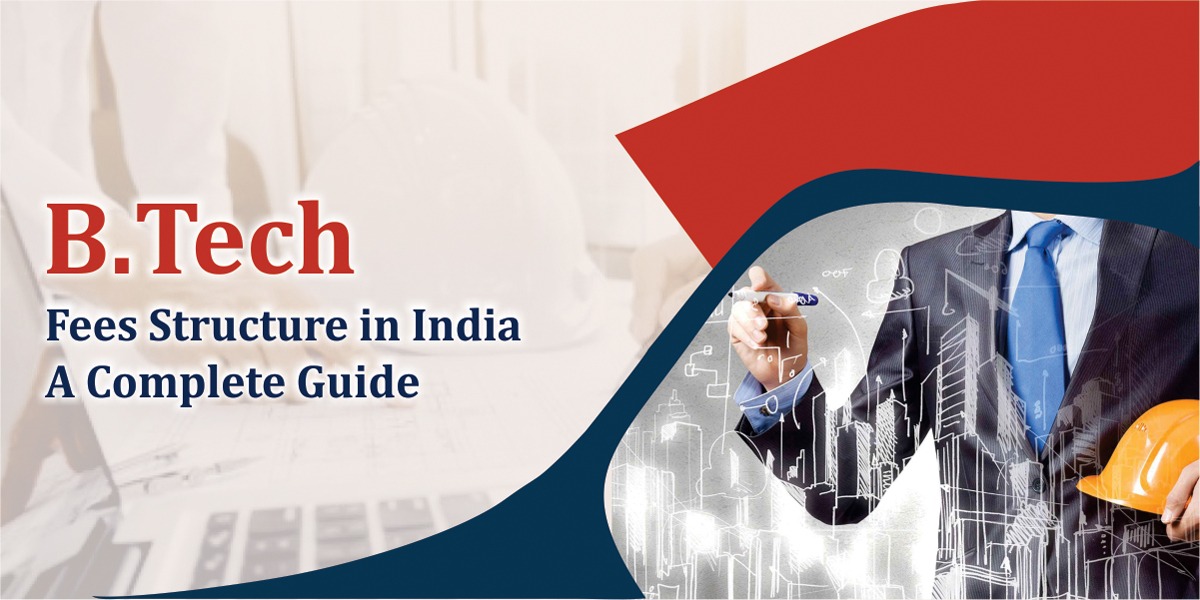 Career options after Engineering – A Complete Guide
Introduction
B Tech a.k.a. Bachelor of Technology has persistently been one of the most sought after courses for ages. Pursuing engineering has always appealed to the students, not to forget the sea of options of career it bestows one with. The students are so enthralled by the B Tech Course that in India, almost twenty-five lakh students enroll themselves in this course every year. This 4-year course makes a student well equipped to come out with flying colors in any kind of technical or managerial field. B Tech is an undergraduate academic degree that provides skill-oriented courses.
Duration of B Tech:- A B Tech course typically includes 4 years and 8 semesters.
Eligibility Criteria for securing admission into B Tech Course:-
Since the seats for B Tech are always in demand, there exists a cut-throat competition for the same. Securing a seat in this course is usually done based on various entrance examinations like JEE, AIEEE, etc. Given below are some of the basic requirements a B Tech aspirant must fulfil to pursue this course.
The candidate must have Past 10 + 2 with a minimum of 50% aggregate
The candidate must have Pursuit that 10 + 2 Hindi science stream which mandatorily included the subjects of mathematics for physics and Chemistry
The candidates must have passed that 10 + 2 from a recognised institution affiliated to a recognised board of Education
Qualifying in JEE is not necessary for taking admission to the B Tech course. However, if one aims to secure a seat in the most prestigious institutions of the country like IITs, NITs, taking the JEE or any other entrance examination at par with it and scoring well is important. Some institutions even conduct their entrance examination.
Why opt for B Tech?
B Tech has managed to keep its position as a promising course intact. The prospects in this field are bright and prosperous. The field of engineering never loses its importance as far as bagging a good career options after engineering is concerned. The B Tech degree gives a student a plethora of options to choose from. Some of the popular streams or specialisations one can opt for under this degree include—
Computer Science and Engineering
Mechanical Engineering
Civil Engineering
Electronics and Communication Engineering
Aeronautical Engineering
Communications Engineering
Information Technology
Electrical Engineering
Electronics Engineering
Petroleum Engineering
Structural Engineering
Genetic Engineering
Mechatronics Engineering
Industrial Engineering
Biotechnology Engineering, etc.
B Tech not only promises a student with a promising career but also provides them ample job opportunities in their specific area of interest. Besides the aforementioned points, there is more to it-
B Tech furnishes a student with a good career
It helps to acuminate their skills
Ample jobs to choose from, both in the private and public sector
Recruitments as researchers, consultants and subject matter experts
Good scope of higher studies
High level of job satisfaction
Variety of career options
Development of core and soft skills
Pose different challenges at work to develop interest
Provides proper financial security
Helps one secure a good position and reputation in the society
Engineers can pioneer scientific and technological breakthroughs thus making the world a better place to live in.
The B Tech aspirants need to be thorough about the institution that provides the opportunity to pursue B Tech in various streams and the fees charged by them so that they may take another step toward realizing their dream.
Premier Government Institutions That Provide B Tech Degrees
| | | |
| --- | --- | --- |
| S.No. | Name Of The Institution | Fee Structure |
| 1 | IIT Madras | Rs 8,91,000 |
| 2 | IIT Delhi | Rs 8,47,000 |
| 3 | IIT Bombay | Rs 8,83,000 |
| 4 | IIT Kanpur | Rs 8,38,000 |
| 5 | IIT Kharagpur | Rs 8,32,000 |
| 6 | NIT Trichy | Rs 5,63,000 |
| 7 | IIT Indore | Rs 8,75,000 |
| 8 | Institute Of Chemical Technology, Mumbai | Rs 3,41,000 |
| 9 | Jadavpur University, Kolkata | Rs 9,600 |
| 10 | NIT Warangal | Rs 5,00,000 |
| 11 | IIEST, Shibpur | Rs 5,68,000 |
| 12 | Delhi Technological University, New Delhi | Rs 8,91,000 |
| 13 | Aligarh Muslim University, New Delhi | Rs 10,63,000 |
| 14 | JamiaMiliaIslamia, New Delhi | Rs 64,600 |
| 15 | NIT Durgapur | Rs 5,00,000 |
Premier Government Institutions That Provide B Tech Degree
| | | |
| --- | --- | --- |
| S.No. | Name Of The Institution | Fee Structure |
| 1 | Vellore Institute of Techn ology, Vellore | Rs 7,83,000 |
| 2 | School of Engineering Coimbatore | Rs 13,13,000 |
| 3 | Thapar Institute of Engineering and Technology | Rs 17,08,000 |
| 4 | BITS Pilani | Rs 19,19,000 |
| 5 | SRM Institute of Science and Technology Chennai | Rs 16,10,000 |
| 6 | KIIT School of Engineering ,Bhubaneswar | Rs 14,75,000 |
| 7 | Birla Institute of Technology korma Mishra | Rs 12,32,000 |
| 8 | Chandigarh University | Rs 8,48,000 |
| 9 | Lovely Professional University | Rs 7,68,000 |
| 10 | Manipal Institute of Technology | Rs 17,90,000 |
| 11 | Dayananda Sagar College of Engineering | Rs 2,65,000 |
| 12 | R V College of Engineering, Bengaluru | Rs 3,34,000 |
| 13 | DhirubhaiAmbani IICT Gandhinagar | Rs 6,88,000 |
| 14 | Amity School Of Engineering and Technology, Noida | Rs 10,16,000 |
| 15 | MS Ramiah Institute of Technology, Bengaluru | Rs 11,54,000- Rs 17,54,000 |
Important Things to Know About B Tech Fees in India:
The fees of separate institutions are distinct from each other based on the infrastructure, facilities, quality of education imparted, etc. Usually, the fees of government colleges are quite less compared to that of private colleges because private colleges are usually run by various trusts, organisations and individuals. Moreover, this is a technical course that includes extensive lab work. To provide adequate infrastructure and equipment and to maintain a satisfactory quality of the facilities a student can avail, the general fee structure of colleges furnishing B Tech degrees B Tech degrees is quite higher than normal.
How to Make B Tech Cost-Effective?
Opt for government engineering colleges by cracking any entrance exam
Apply for different scholarships provided by the college or the government
Cut down daily unnecessary expenses like expensive food and drinks
Apply for various part-time jobs and try to find a paid internship
Try to save as much money as possible
Save money on commute by walking to the college
Go for a college that's closer to where you're staying
Partake in paid competitions in your interest area and aim to win
Alternatively, try tutoring students physically or on online portals
Use more community resources like books from the library instead of buying
To Sum Up
Although all other sectors have seen a decline in their popularity over the decades, B Tech continues to be a popular career choice of most students pursuing pure science in their 10+2 level. This course supplies with an educative arrangement that assists one to advance smoothly into their professional life. This course makes a student think beyond the mainstream thought of the masses thus making the person stand out amidst the crowd. It helps to develop critical and innovative thinking aptitude. Moreover, the lucrative placements with handsome packages have made B Tech a covetable degree to own. Another great thing about B Tech is that it comes with a multitude of specializations catering to the interests and long term career aspirations of individual students.