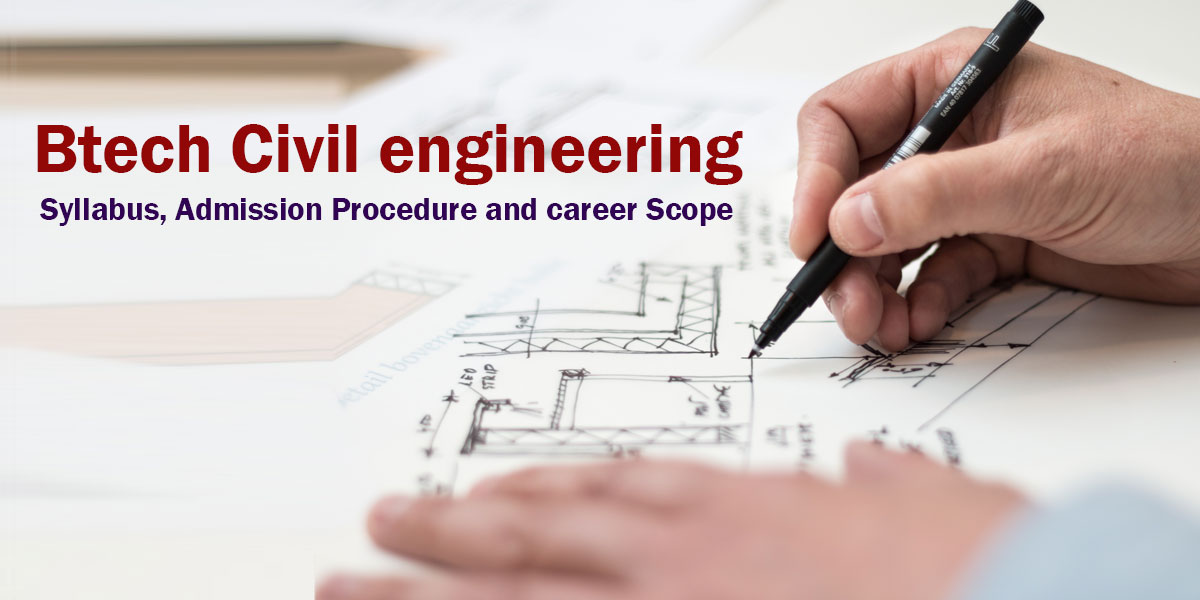 Btech Civil engineering Syllabus, Admission Procedure and career Scope
Introduction
Civil engineering is often referred to as the "mother of all engineering" because it is the oldest form of engineering. Civil engineering, to put it another way, is concerned with the physical aspects of things that are necessary for the smooth operation of everyday human life. Every construction that assists the normal usage, passage and subsistence of commoners is covered by civil engineering, which includes bridges, buildings, flyovers, roads, drainage systems, reservoirs, and airports. A civil engineer's job description includes everything from the conceptual stage to the final plan, archetype, development, construction, and maintenance of structures. The Bachelor of Technology in Civil Engineering is a four-year undergraduate engineering degree that includes the study related to the aforementioned topics.
Civil engineering is regarded as the foundation of efficiency in the general public's day-to-day activities. As the name implies, the outcome of a civil engineer's labor has a significant impact on the entire society. Hundreds of thousands of aspects must be evaluated before approving a design, whether it is an extraordinarily designed urban city or something as simple as sewage systems. Civil engineers play an important part in this process. Civil engineering is especially important in emerging countries like India, where growth and expansion are often discussed. With India's booming economy and lagging infrastructure, it is evident that the country needs professional and educated civil engineers to guarantee that infrastructure does not stifle economic growth. This demand is directly proportionate to the opportunities accessible in this field of engineering, which will expand its scope in 2022. Being a civil engineer indicates your interest in resolving challenges linked to infrastructure and numerous complex structures, and it frequently entails working in the construction industry. Civil engineering students may have positions such as Project Administrators, Design Engineers, Application Engineers, Chief Technical Officers, and many others.
B Tech Civil Engineering Syllabus
The subjects for any branch of engineering for the 1st and 2nd semesters are usually the same with some exceptions for field-specific subjects. Following are the list of updated subjects divided semester wise for the civil engineering curriculum for 2022.
Semester 1 And Semester 2
Engineering Physics

Topics: Theory of Electromagnetic Field, Wave Optics, Fiber Optics, Relativistic Mechanics, and Quantum Mechanics

Engineering Chemistry

Topics: Fundamentals of Organic/Inorganic Chemistry, Electrochemistry and Fundamentals of Organic/Inorganic Chemistry, Electrochemistry and Chemical Kinetics, Analytical Techniques in Chemistry, Applied Chemistry

Applied Mathematics

Topics: Probability and Statistics, Linear Algebra, Differential and Integral Calculus, Vector Calculus, Complex Analysis

Construction Materials

Topics: Building Stones - Classification of Rocks, General characteristics of stones, Uses of stones in construction, Bricks and Tiles - Introduction, Manufacturing, Classification and specifications, Tiles, Cement - Introduction, raw materials, Properties and Types of Cement, Timber and Wood-Based Products, Paints and Varnishes, Metals, Miscellaneous Materials

Fundamentals Of Mechanical Engineering And Mechatronics

Topics: Introduction To Solid Mechanics, IC Engines, Measurement And Control System, Mechatronics, Fluid Mechanics And Applications

Engineering Drawing-I
Computer-Aided Drawing
General Workshop Practice
Semester 3
Probability, Statistics
Linear programming Mechanics of Solids-l
Mechanics of Fluids - I
Surveying - I
Geotechnical Engineering - I
Concrete Technology
Building Planning and Drawing
Semester 4
Numerical Techniques
Mechanics of Solids-II
Mechanics of Fluids - Il
Surveying - II
Geotechnical Engineering - II
Environmental Engineering II
Semester 5
Environmental Engineering - II
Structural Analysis -1.
Concrete Structures -I
Steel Structures - I
Hydraulic Machinery
Advanced Strength of Materials
Semester 6
Structural Analysis - Il
Transportation Engineering - I
Concrete Structures-ll
Steel Structures - Il
Water Resources Engineering Elective - 1
Computer-Aided Design - 1
Estimation, Costing and Valuation
Semester 7
Matrix Methods of Structural Analysis
Transportation Engineering - II
Irrigation and Hydraulic Structures
Industrial Economics
Computer-Aided Design - II
Semester 8
Management Concepts and Practices
Prestressed Concrete Structures
Chosen Electives
Electives to choose from -
Groundwater Hydrology
Experimental Stress Analysis
Earthquake Resistant Structures
Remote Sensing and GIS
Advanced Foundation Engineering
Hydrology
Water Power Engineering
Structural Dynamics
Finite Element Method
Models for Air and Water Quality
Transportation planning
Pavement Analysis and Design.
Advanced Surveying Techniques
Steel-Concrete Composite Structures
Geotechnical Earthquake Engineering
Industrial Safety
Computational Fluid Dynamics
Urban and Regional Planning
Operations Research Techniques in Civil Engineering
Creative writing through literature
Job profiles and roles after pursuing Civil Engineering
1. Architectural Engineer

An architectural engineer test evaluates and improves the structural integrity of structures and building systems using mathematical and scientific concepts in building design. Architectural engineers may focus on designing, building prototypes, ensuring the implementation of designs and altering them whenever required.

2. Structural Engineer

A Structural Engineer is an expert in the design and analysis of diverse structures. They give precise estimates for the strength and stability of structures like bridges and buildings. A Structural Engineer is responsible for balancing many elements of a project, such as safety and design. Furthermore, a Structural Engineer analyzes modern technologies in the sector to identify the most cost-effective solution.

3. Geotechnical Engineer

Geotechnical Engineers are important to the success of building projects. They examine the geology of a certain location, evaluate data, and conduct research to assist develop suggestions and designs for constructions suggested for that site. Geotechnical engineers examine an area's soil, rock, and water tables, identifying issues like stability, future erosion, and settlement, all in the service of suggesting the best and safest methods build everything from houses to high-rises to highway interchanges

4. Project Site Inspectors / Construction Engineers

They examine project drawings and plans, manage project timelines and resources, and compute costs. Planning construction activities at each stage and liaising with designers to ensure a successful and faultless outcome.

5. Transportation Engineer

Civil engineers who develop motorways, airports, railways, and bus networks. They work for consulting organizations that troubleshoot for the government, and private companies that manufacture transportation materials and equipment.

6. Project Managers

Assume complete responsibility for ensuring that all parts of construction are aligned with safety requirements, supervising sequential progress, and ensuring that all components of the construction are aligned to eliminate the possibility of any error.

7. Chief Technical Officers

The primary job responsibilities of a Chief Technical Officer involves overseeing all technological upgrades at all stages and working to ensure that all procedures are up to date with the newest technology

8. Engineering Consultant

An engineering consultant mainly deals with assisting companies in solving technical issues and doubts a team night has and guiding them towards the best course of option after considering all technical inputs.

8. Analyst

The major job role of an analyst revolves around compiling and analyzing data to interpret suitable measures towards the company's interest. The analysis is done based on technical findings, adherence to quality and quantity of products and materials, and foolproof overseeing of all undertakings related to the project.

9. Aerospace Engineer

Aerospace engineers are responsible for the development and testing of goods used in the aerospace and space industries. This position requires advanced materials knowledge as well as experience drafting designs for aircraft, helicopters, spaceships, rockets, and other related machinery using specialist computer tools, monitoring aerodynamic performance, and testing and improving their capacities to make their use more convenient.

Conclusion

As a result of the pervasiveness of this engineering area in day-to-day human activities, the number of opportunities accessible for civil engineers in 2022 is enormous. Essentially, this is the oldest, and hence most generally followed a specialization that provides engineering graduates with the opportunity to design huge, functioning, and efficient ecosystems from the ground up. Many top universities around the country including the Lloyd Institute of Engineering and Technology , provide substantial, industry-oriented curricula that allow students to harness and improve their talents as they learn them.