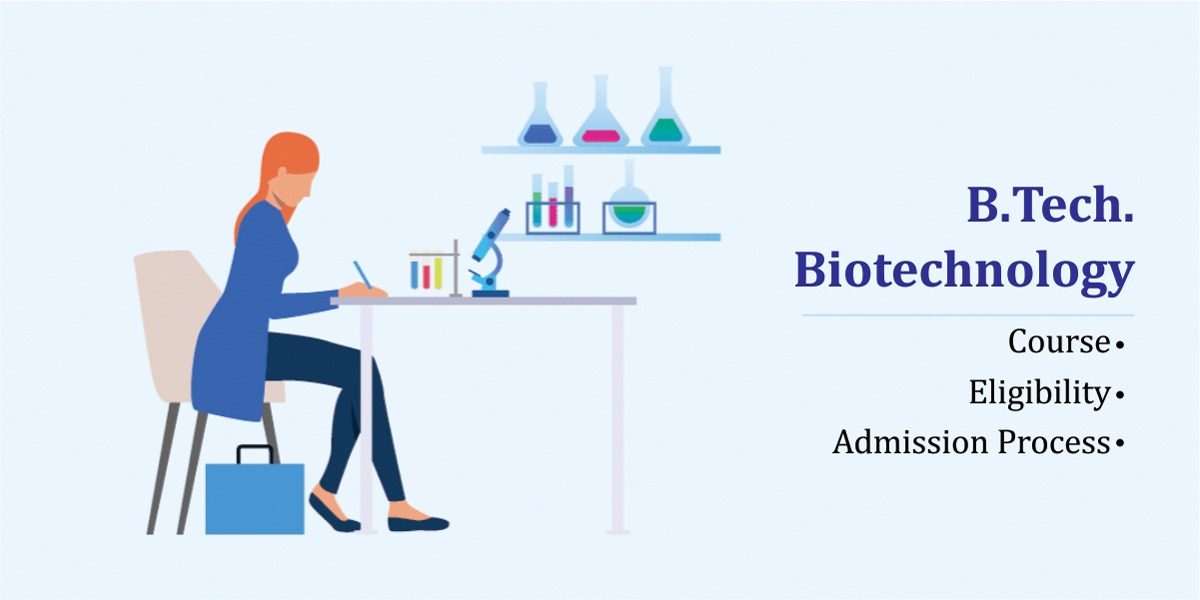 B Tech Biotechnology: Course, Eligibility, Admission Process [Updated]
Introduction
Bachelor of technology in biotechnology, or B Tech Course, is a 4-year undergraduate program. It consists of the usage of applied biology and chemical engineering principles, which attempts to find out which living things can be used in medicine, engineering, technology, and other places. For the students who want to build their careers around research, B Tech biotechnology has become a popular choice. Moreover, starting from the manufacturing industries to the textile industry, there are numerous jobs available, as biotechnology is necessary almost in every aspect of life, and the COVID-19 pandemic has shaped the current biotechnological conditions in such a way, that it benefits not only the ones who work for the field but also the ones who enjoy the service. Through this article, all the necessary information regarding B Tech Biotechnology, starting from the admission, the fee, the eligibility, and everything, that a student requires to know before taking admission with B Tech Biotechnology.
Scope of Getting Admission in B.Tech Biotechnology
Biotechnology has become a popular choice among students who want to build a career around science, research, and technology. Fields like textile, medicine, food, animal husbandry, etc., are always in high demand by biotechnologists. The scope of biotechnology has expanded to a variety of sciences such as immunology and virology, and other subjects such as health, agriculture, cell biology, plant physiology, seed technology, etc. at present, we can see innovation, discoveries, and new products, which changes our life for the better. A major part of that credit goes to the biotechnologists. And thus there is a high demand for biotechnologists in the industrial, medical, food, and health sectors.
Also Read – How to become a Software Engineer
Current Trends In Biotechnology
Currently, with the advancement of science and technology, next-generation computers are being used to predict and understand the scope, and thus are being used to increase the efficiency in the manufacturing process. For example, drugmakers can use the technology to analyze data, which can test the efficiency of drugs. There has been an increase in the number of stakeholder collaborations, in all small companies, government organizations, multinational companies and academic institutions. There has been a noticeable increase in the number of personalized treatments of rare diseases, which wasn't there before.
Admission Process
The admission process for B Tech biotechnology differs from college to college, but the majority of the universities/institutions offer admissions based on merit scored in top entrance exams. Mentioned below are the few things you need to know about the admission process to B.Tech Biotechnology:
a. Students are granted admission based on merit scored in popular Engineering Entrance exams such as JEE MAINS or JEE ADVANCED, and other state and university level, personalized exams such as CET, OJEE, MHT, WBJEE, MET, and many more.

b. There is a specific cut-off every year, which depends on the highest scores. Students with higher scores have greater chances of getting admission to top colleges and universities.

c. Students are required to provide a choice of colleges, while appearing for online counselling, according to their preference.
d. The counselling body selects the seats for each university, according to the ranks scored by the students.
e. In merit-based admissions, 12th boards scores are taken into consideration, where physics, chemistry, biology, and English are compulsory subjects. The student needs to fill out the application form correctly for this kind of admission. During admission, students must submit the required documents.
f. In the case of entrance-based admission, some universities and states conduct their entrance tests. The students can apply for this type of admission on the college websites, submit the necessary documents that are asked for, and keep the receipt provided. After that, they need to appear for the examination, and those who qualify will be called for counselling sessions.

JEE MAIN is a national-level examination for engineering and architecture courses and is considered valid in many top institutions.
JEE ADVANCED is conducted after JEE MAINS for admission into different IITs
In the case of state-level examinations, each state holds its personalized entrance tests, like WBJEE, UPSEE, etc.

g. One can also get direct admission to colleges without clearing any entrance examinations through the management quota. Some of those top colleges are BMS College of engineering, Rajalakshmi Engineering College, and Kumaraguru College of engineering.
Eligibility criteria
BTech Biotechnology is a highly futuristic course that lays the foundation for a prestigious tech career. Before you get admitted to a college offering this course, students are required to check certain eligibility criteria that make them qualified to pursue Btech biotechnology. The eligibility criteria are as follows:
The student must clear their 10+2 board examinations with the science stream, with physics, chemistry, biology, and English as compulsory subjects.
The student must get a minimum of 75% marks in the 10+2 board examination
The student should be at least 17.
Submission of required documents while filling out the forms is compulsory.
Curriculum
Students are required to study the subjects, to gain core knowledge about the field of engineering. The exams are taken semester-wise. The students must go for 2 months of training after the second year and 6 months of a major project in the last semester. The final and the total assessment is based on theory examinations, internal, practical, and project work. The subjects primarily revolve around understanding the basics and advanced courses in Chemistry, Engineering, and a little mathematics. Internships in the final semester are given adequate weightage, and students must take them seriously to get a good credit score in their practical examination.
Subjects
Students pursuing B Tech Biotechnology are required to study some compulsory subjects that are distributed semester wise for each year. Given below are some of the subjects taught under this program:
Inorganic Chemistry
Life Sciences
Foundation Courses In Physics
Essential In Maths
Concepts In Biotechnology
Introduction To Computer
Foundation Course In Organic Chemistry
Electric Sciences
Microbiology
Bioenergetics
Cell Biology
Chemical Engineering
Molecular Biology
Enzyme Technology
Plant Tissue Culture
Animal Biotechnology
Developmental Biology
Read also – Which b tech branch is best?
Career Paths After B Tech Biotechnology
As mentioned before, B Tech in Biotechnology offers a variety of career opportunities for aspirants. The job prospects are very lucrative and gaining a good experience can promise a quick upward growth for students in their careers. Some of the job profiles and their average starting salary per year are listed below:
| Sr No. | Job Profiles | Salary |
| --- | --- | --- |
| 1 | Research Scientist | Rs 865469 |
| 2 | Lecturer Of Biology | 1 Lakhs To 12 Lakhs |
| 3 | Jobs In Pharmaceutical Companies | Around Rs 10000-60000(Per Month) |
| 4 | Jobs In The Information Technology Sector | Rs 1035927 Per Year |
| 5 | Biotechnologist | Rs 491812 |
| 6 | Drug And Pharmaceutical Research Scientist | Rs 6.7 Lakhs Per Year |
| 7 | Food Processing Industrialist | Rs 90000- Rs 5.7 Lakhs Per Year |
| 8 | Waste Management/Environmental Control | Rs 7.4 Lakhs Per Year |
| 9 | Genetic Engineering | Rs 2- 2.8 Lakhs Per Year |
| 10 | Industrial Research And Development | Rs 1.2 Lakhs To 18.7 Lakhs |
Conclusion
This article can work as a reference for aspiring students, who want to pursue B Tech in Biotechnology after 12th, and who want to know the specifications of what the course entails and what it has to offer. Admission to any of the good colleges offering B. Tech biotechnology courses, proper dedication, and hard work can ensure the students a favorable career in the domain of medical and tech industry.