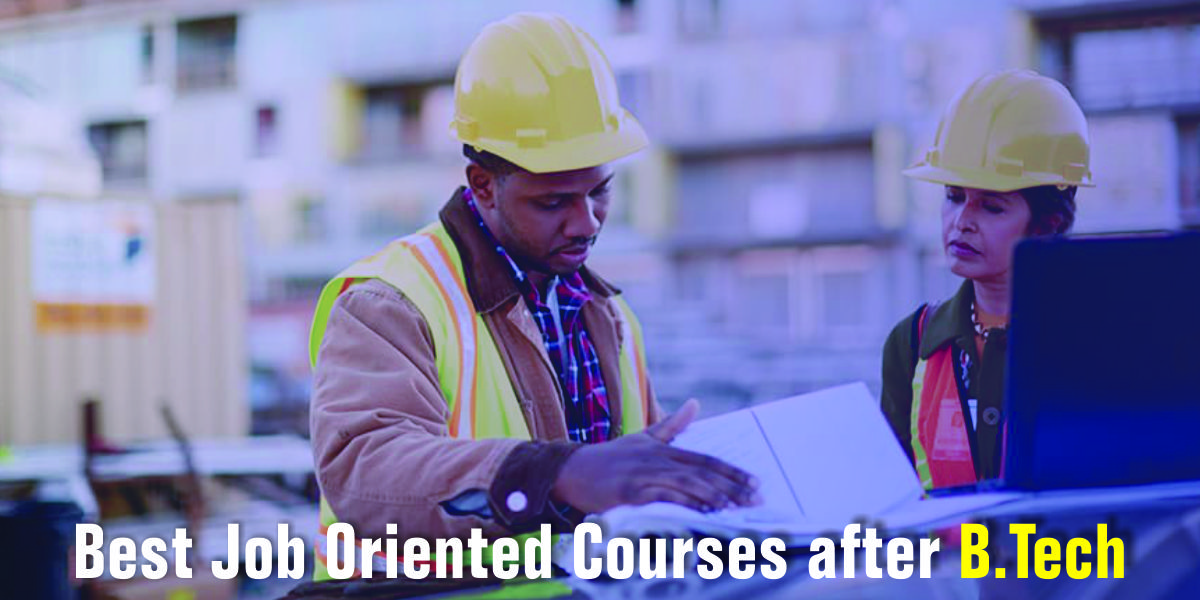 Best Job Oriented Training Courses after Btech
Introduction
What are training courses?
Training courses are short-term professional certifications that can enhance the value of the degree pursued by the student. These training programs are normally only 6 months or 12 months long but provide technical insights into the chosen specialization with an end-term field project to fully acquaint the student with the course. Sometimes they are mandated by the organization a person is working for, and they can also be pursued independently depending upon the requirement.
The stand-out point about these training programs is they can significantly help students land a highly specific niche-oriented job because. Hiring companies sometimes look for that one extra edge over a wide pool of candidates that have pursued the same educational degree, and these training programs just might be the shining star on your profile that you need.
Types of Job Oriented Courses afterBtech
Post Graduate Programs/Diplomas
Certification Courses
Post Graduate Degrees
Reasons To Pursue Job Oriented Training Courses afterBTech
Increase Your Skill Set
Pursuing job-oriented training courses especially after a demanding degree such as BTech, the students get prepared for being multifaceted professionals with not just one skill but many. Overall personality development comes with
Gain Technical Expertise
If your objective is to excel in your career and record linear growth, then job-oriented training courses are just the thing for you. As an engineering graduate, your aim should not be getting your hands on a lot of trades, but being the absolute master in one and going higher up the ladder by making the best use of your technical knowledge.
Expand Your Learning Potential
Somebody who has a knack for learning can never cross paths with failure. Training programs expand your horizons and open up doors to undiscovered information, which can prove beneficial to students on numerous occasions. This will also help you in gaining in-depth knowledge by digging deeper into the subject.
Higher Monetary Benefits
Added qualifications make you better suited for senior positions that offer a higher pay scale. This makes training courses a good investment even when it means spending a good amount of years perfecting the field you want to work in. Besides, financial stability is often one of the eventual goals in everyone's life, and these training courses let you gain just about that.
Post Graduate Programs/Diplomas
Postgraduate programs or diplomas are pursued after a student has completed their graduation in BTech. These programs are equivalent to a master's degree but contain fewer credits than a full-fledged postgraduate degree. The duration of a postgraduate program usually ranges between 1 to 2 years. The ultimate benefit of taking up a post-graduate diploma in engineering subjects would mean targeting a goal-specific job. Following is the list of few PG diploma courses:
Post Graduate Diploma in Advanced Manufacturing Technology
Post Graduate Diploma in Automobile Engineering
Post Graduate Diploma in Industrial Engineering
Post Graduate Diploma in chemical Engineering
Post Graduate Diploma in Informational Technology
Certification Courses
Certificate courses are short-term courses that are highly specialized in a single paper of a vast subject. These courses cover only a topic of the degree but embed all the knowledge that a student needs to know about it. The duration usually ranges from 3 to 6 months with a project at the end of the course, short quizzes in between, and an online test. Certification courses after BTech can shoot up the pre-existing information the candidates have, provide them valuable insights, new findings, technical advantage, and a lot of particular learning points about the topic chosen. Following are some of the program-wise certification courses that a student can take up after/while doing BTech to gain that extra advantage.
Certificate Course AfterBtech Civil Engineering
Certificate In Construction Management
Certificate In Autocad Software
Certificate In Fundamentals Of Waves And Vibrations
Certificate In Sports And Building Aerodynamics
Certificate Course AfterBtech Computer Science Engineering
Certificate In Google Ux Design
Certificate In Digital Product Management
Certificate In HTML, CSS, And Javascript For Web Developers
Certificate In Data Structures And Algorithms
Certificate In Blockchain Revolution
Certificate Course In Artificial Intelligence Machine Learning And Deep Learning
Certificate In Android App Development
Certificate Course AfterBtech Electrical Engineering
Certificate Course In Active Optical Devices
Certificate Course In Developing Industrial Internet Of Things
Certificate Course In Embedding Sensors And Motors
Certificate Course In Optical Engineering
Certificate Course In Power Electronics
Certificate Course In Semiconductor Devices
Certificate Course In Algorithms For Battery Management Systems
Certificate Course AfterBtech Mechanical Engineering
Certificate Course In Material Science
Certificate Course In Fluid Mechanics
Certificate Course In Digital Manufacturing And Design Technology
Certificate Course In Machine Design
Certificate Course In Robotics
Certificate Course AfterBtech Electronics Engineering
Certification In Linear Circuits
Certification In Programming The Internet Of Things
Certification In Computer Architecture
Certificate In Photovoltaics Systems
Certificate In In Digital Signal Processing Applications
Certification In Computer Networking And System Security
Certificate In Wireless Networks And Telecom
MBA
Engineering is the second most sought-after profession in India, the first one being management. Along with being a popular course, a career in management coupled with a background in engineering, students can expand their career prospects to high-level positions. Various job profiles demand technical expertise from management professionals and pay a hefty sum. An MBA degree complements a BTech degree and guarantees placement with augmented offers. An additional bonus would be pursuing a management degree in the domain of technology, so you don't fall behind your chosen line and turn it into your expert area instead. Following are some courses engineering graduates can opt for:
MBA In Information Technology
MBA In Air Travel Management
MBA In Infrastructure Management
MBA In Computer Science
MBA In Biotechnology
MBA In Industrial Engineering
MBA In Urban Planning And Infrastructure
MBA In Food Technology
MBA In Dairy Technology
1MBA In Construction Management
1MBA In Quality Control And Management
1MBA In Product Management
1MBA In Operations Management
1MBA In Project Management
1MBA In Technology Management
Mtech
There are more than 50 Mtech specializations in India that engineering graduates can choose from and more than 2500 colleges all across the country. When it comes to job-oriented courses, MTech is the go-to preference for engineering graduates for a lot of reasons. A master's degree in technology helps the candidate in fetching a broadened level of knowledge in a specific branch of engineering, thus giving them added expertise. To secure a job in global and multinational companies, candidates with an MTechdegree are preferred and placed at top hierarchical positions. This means more job security, more financial stability, more job satisfaction, and a broader scope of opportunities. Following are some of the specializations that an MTech degree offers:
Mtech In Civil Engineering
Mtech In Mechanical Engineering
Mtech In Electrical Engineering
Mtech In Electronics And Communication Engineering
Mtech In Information Technology
Mtech In Manufacturing Engineering
Mtech In Electrical Engineering Mtech In Software Engineering
Mtech In Chemical Engineering
Mtech In Biotechnology
Mtech In Nanotechnology
Mtech In Metallurgical Engineering
Mtech In Construction Engineering
Mtech In Automobile Engineering
Mtech In Mechatronics
Mtech In Geographical Sciences
Mtech In Textile Engineering
Mtech In Hardware And Network Technology
Mtech In Pharmaceutical Engineering
Mtech In Fashion Technology
Mtech In Aerospace Engineering
Considering all the benefits of a job-oriented training course after BTech, it is safe to say that it's going to be one of the best career decisions you'll ever make. Investing a year or two after you've completed a BTech will only be a win-win situation because there's everything to gain and nothing to lose.