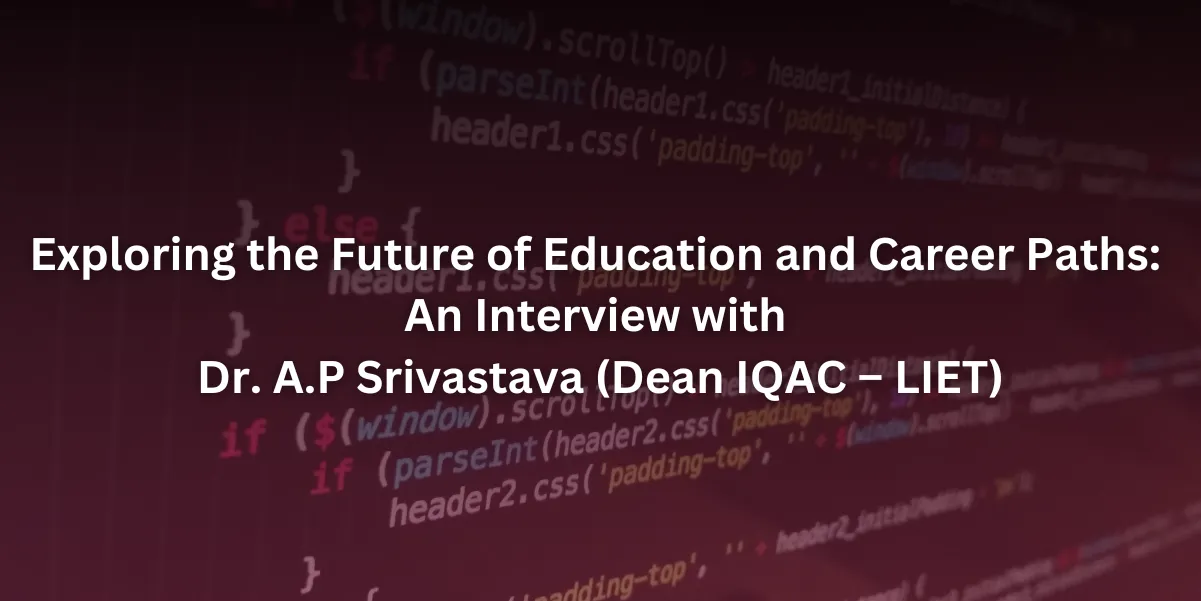 Exploring the Future of Education and Career Paths
An Interview with
Dr. A.P Srivastava (Dean IQAC – LIET)
In the realm of modern education, where technology-driven advancements are transforming industries, the significance of specialized degrees has grown exponentially. Dr. AP Srivastava, a seasoned educator with over 20 years+ of experience, shares his insights on the distinctive aspects of specialized programs, career prospects, and placement opportunities for students pursuing BCA and MCA degrees.
Q1: How do BCA and MCA with certifications / specialization in Artificial Intelligence and Machine Learning, Data Science, IoT, etc. differ from regular BCA and MCA?
Answer: Specializations in cutting-edge fields like Artificial Intelligence, Machine Learning, Data Science, and Internet of Things (IoT) provide students with a competitive advantage in today's technology-driven landscape. In regular BCA and MCA programs, you get a solid base in computer science basics. But with specialized degrees, you go deeper into the exciting world of new technologies that are just starting to take off. These programs integrate hands-on experience, industry-relevant projects, and advanced coursework tailored to meet the demands of the evolving job market. Students emerge with not only theoretical knowledge but also practical skills that are highly sought after by employers.
Q2: What is the career scope for BCA aspirants?
Answer: The scope for BCA aspirants is vast and dynamic. A Bachelor of Computer Applications (BCA) equips students with a comprehensive understanding of computer systems and programming languages. Graduates can find opportunities as software developers, web designers, system analysts, and database administrators. With the growing demand for digital solutions in various sectors, BCA graduates have the potential to work in industries such as finance, healthcare, e-commerce, and more. Furthermore, BCA can serve as a stepping stone towards pursuing higher education in specialized fields like AI, ML, and Data Science, enabling students to explore even greater career possibilities.
Q3: What is the difference between a BCA and a B.Tech CSE degree?
Answer: Both BCA and B.Tech in Computer Science and Engineering (CSE) offer valuable insights into the world of technology, but they have distinct focuses. A B.Tech CSE degree provides a comprehensive engineering foundation with an emphasis on technical aspects such as hardware design, systems engineering, and advanced programming. On the other hand, BCA concentrates on software development, applications, and programming languages. While both degrees open doors to lucrative careers in the IT sector, B.Tech CSE may lead to more diverse engineering roles, while BCA can be a stepping stone towards software development and related fields.
Q4: Placement opportunities for both BCA and MCA?
Answer: Placement opportunities for BCA and MCA graduates are promising, particularly for those with specialized certifications. Many companies today are seeking candidates who possess a blend of technical skills and domain expertise. BCA graduates can secure positions as software developers, UI/UX designers, data analysts, and IT consultants. BCA and MCA graduates, especially those with specializations in AI, ML, Data Science, and IoT, can explore roles such as data scientists, machine learning engineers, cloud architects, and more. Additionally, the emphasis on practical training in specialized programs enhances the chances of landing high-paying jobs in reputed organizations.
As we conclude our enlightening conversation with Dr. AP Srivastava, it becomes evident that the landscape of higher education is evolving to meet the demands of a technology-driven world. Specialized programs in fields like AI, ML, Data Science, and IoT offer students a unique opportunity to gain a competitive edge and chart their course towards promising careers. The future of education, as Dr. AP Srivastava highlights, is about equipping students with not only theoretical knowledge but also practical skills that empower them to excel in the dynamic professional arena.