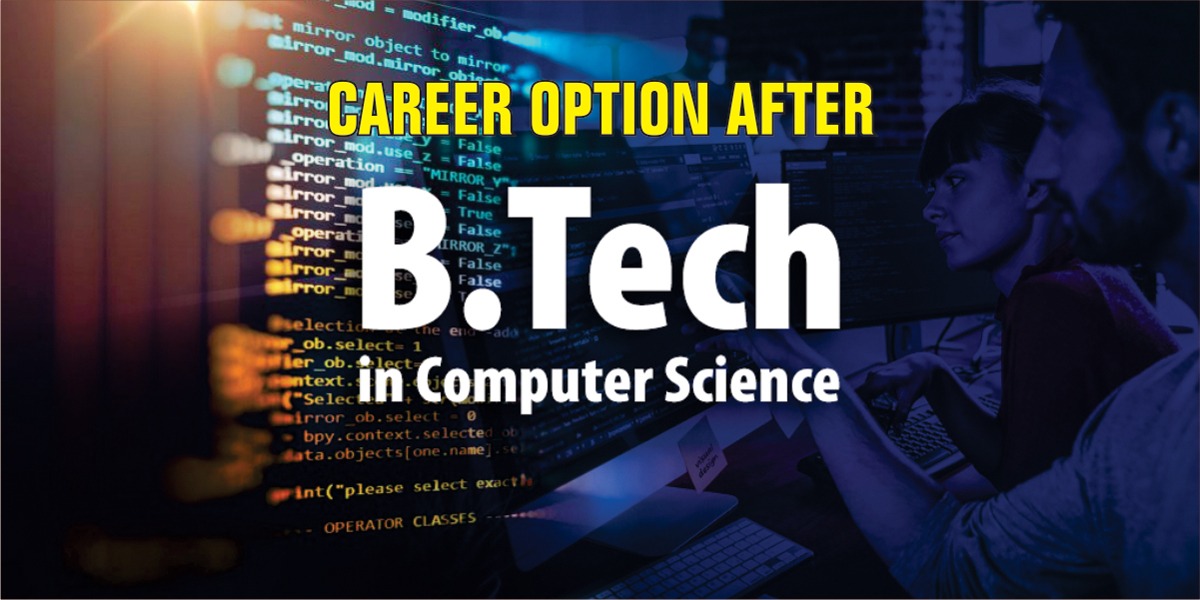 Career option after b. tech computer science
Introduction
Computer science is the study of computers and computing as well as their theoretical and practical applications. Computer science applies the principles of mathematics, engineering, and logic to a plethora of functions, including algorithm formulation, software and hardware development, and artificial intelligence.
It is one of the most sought after fields, especially in India. Major subfields of Computer Science range from traditional study like computer architecture, programming languages, and software development, to some of the newer fields like graphics and visualization, human-computer interaction, databases and information systems and networks.
What is beautiful about this field of study is that it overlaps with other fields like biotechnology, chemical sciences, economics, and finance and business analysis. These overlaps are the consequence of a Tendency among computer scientists to recognize and act upon their field's many interdisciplinary connections.
Why Study Computer Science?
Computer Science degrees are some of the most popular study programmes worldwide. If you're passionate about computer hardware and software, you might already know that Bachelor's and Master's degrees in IT lead to rewarding and lucrative careers. As we live in a digital age, most industries are dependent on technology in their day to day lives. Computer Science & IT impacts everything, from scientific research to health development, transport, banking, communications, you name it. This did not happen overnight. Hard work and dedication of IT graduates around the world made it possible. You can be one of the people who work on innovations that will take humanity forward. You could either work on bettering today's technology, or innovate a completely new one!
Computer Science jobs are very rewarding and in high demand, especially with the fast pace of today's digital world. This demand for qualified IT specialists means that Computer Science careers are well-paid.
The best part about an IT degree is that it is transferable, meaning you can apply your skills to any field, from banking sector and healthcare, to government jobs in national security and finance. You can take these skills and apply them to IT occupations anywhere in the world. Programming languages are the same everywhere, and if you want to travel throughout your career, IT careers will allow you to do that as well.
Another great thing about computer science is you can learn new skills by sitting at the comfort of your home, through online classes and degrees. All you need is a laptop and good internet connection and you are set! There are N number of good courses available online. An often overlooked benefit of online studies is the ability to re-listen to a lecture. Concepts taught in IT are difficult. You might not grasp them immediately, and that's why having the ability to replay a class as many times as you want is a great asset.
What You Can Do After Completing Your B.Tech Degree in CSE
After completing a degree in one of the most desirable professions in the current times, Engineering graduates have a wide array of options at their disposal. There is no one single career option but several after computer engineering. You have a slew of options available before you and you get to pick the one that is the most lucrative for you. Let us look at the options one by one:
1. Higher Studies in Technical Field
If you feel like you still haven't had enough of Computer Science, you could go for an MS/M.Tech degree in a reputed college, either in India or abroad. From there you could go into the research field or complete your pHD and work as a lecturer at universities and school, or become a researcher at universities and big companies. In order to pursue M.Tech in India, you will need to clear the GATE Examination, which will open a lot of opportunities to study Master's as well as work in PSUs. From here you can work in Government owned companies like DRDO, BARC, CSIR, ISRO, AAI, ONGC etc.
2. Technical Job
Job prospects after pursuing computer science engineering are enormous. Rather than spending a huge amount of money on further studies you could work at a good company in various fields like:
Data science and Analysis
Machine Learning Engineer
Artificial Intelligence
Software Developer— Websites and Applications Development
Blockchain Developer and Engineer
Computer Network Architect
Database Administration and Management
Security Analyst
Cloud Computing and DevOPs
Game Development
Digital Marketing
Computer Animations and UI/UX Design
3. Pursue MBA or PGDM
Engineers with great management skills are employed by most of the companies, and for this MBA is a great option. It students top-up their managerial skills and secure a higher paid job. If you wish to pursue an MBA you can take up a job and prepare for the CAT Entrance exam along with your job. If you don't want to do an MBA, a PGDM course will come in handy. PGDM stands for Post Graduate Diploma Management. It is a 2-year course, and getting a PGDM degree from a prestigious management institute will definitely boost your career.
4. Government Services
Along with pursuing technical government jobs after appearing for GATE, engineering graduates could also work in non technical fields by applying and studying for various government exams like UPSC, SSC, Banking exams, Defence or IAS. These are very rewarding jobs as they are well paid, and very secure.
5. Entrepreneurship
If you are someone filled with ideas with a need to create a change in the society, and like being your own boss, you could even commence your own start-up. For an entrepreneur, "opportunity" equates to something that solves a problem and addresses a need in a way that the entrepreneurs can profit from or further a cause. A startup really solves a problem that a lot of people want answered. This will make sure you use everything you learned in undergraduate, as well as teach you new skills. Especially in the field of CSE, where its demand transcends beyond the confinement of a physical setting, your enterprise would hold the potential to go places.
Finally, it depends wholly on you as to where you see yourself 10 years down the line. It is not limited to any of the prospects mentioned above, but so many more. In an ever evolving field such as computer science, there are absolutely no barriers to what all is achievable, if you so wish.