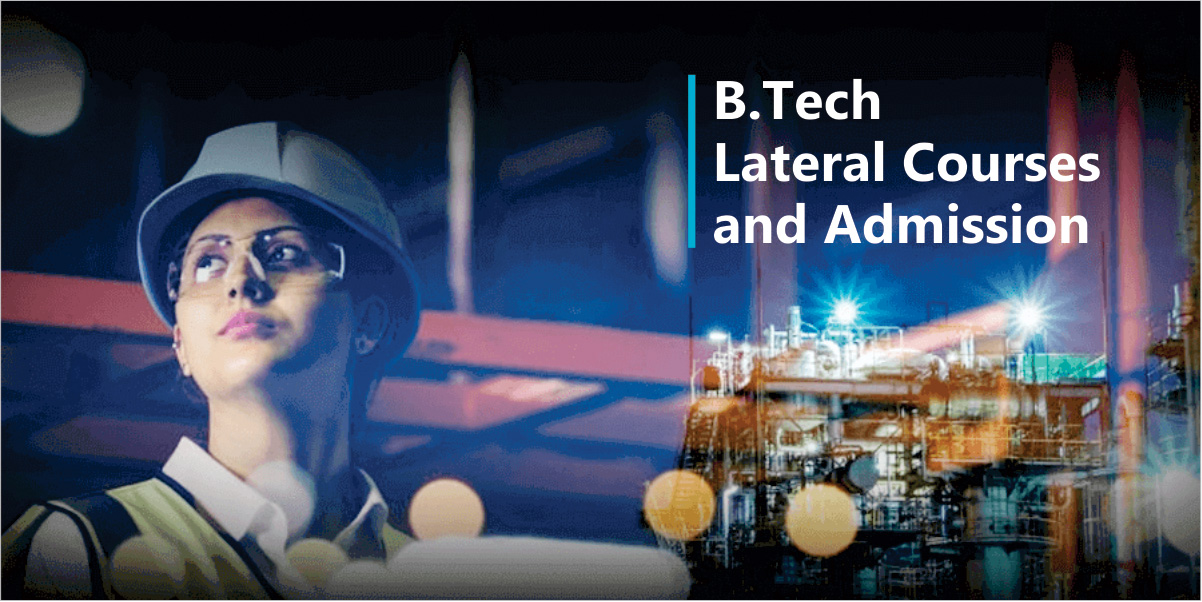 B.Tech Lateral Courses and Admission Eligibility – All about it
Introduction
What Does Lateral Entry Mean?
Lateral entry is an innovative way of getting admission into BTech engineering programs. Students who apply through lateral entry get admission directly into the second year of the BTech program, given they meet all the requirements enlisted. Lateral entry is introduced as a means to facilitate the education of students with a proven background in engineering and technology, by sparing them a year of repetitive papers. This way of admission is beneficial for students looking to enter into a professional degree as it helps them secure profitable career opportunities with more years of formal education.
Eligibility ForBtech Lateral Entry Courses In India
To pursue BTech via lateral entry, there are certain eligibility conditions that students are required to meet. It is advisable to note that individual eligibility criteria for different colleges vary and hence the students must satisfy the criteria mentioned by each particular institution.
Students applying for admission into the Btech program through lateral entry must have completed their matriculation and/or intermediate from a recognized education board in India.
As a combination to the point mentioned above, students also must have either completed a diploma in a relevant field under Engineering and Technology or completed a Bachelor's of Science degree in engineering and technology. In some universities, BSc in physics, maths, and BE in specific engineering branches are also taken into consideration.
Students must have studied physics, chemistry, and mathematics compulsorily at +2 level in the case of BSc.
Students belonging to the unreserved category must have secured a minimum of 45% marks in their diploma or BSc in engineering. There is a 5% relaxation for students from the reserved category.
Candidates looking to secure admission into government colleges in various states must qualify for the state-level entrance exams and possess necessary domicile certificates if required.
Entrance Exams Conducted By States For Admission Into BTech Lateral Entry
Madhya Pradesh B.Tech Lateral Entry Admission
Andhra Pradesh Engineering Common Entrance Test (APECET)
Jharkhand Diploma To Degree Entrance Competitive Examination
West Bengal University Joint Entrance Exam for Lateral Entry (JEELE)
Assam Joint Lateral Entry Entrance Exam (JLEE)
Punjab Technical University Lateral Entry Entrance
Puducherry B.Tech Lateral Entry Test
Uttarakhand State Entrance Exam (UKSEE)
Kerala B.Tech Lateral Entry Entrance Examination (KeralaLET)
1Bihar Lateral Entry Entrance Exam (BCECELE)
1Uttar Pradesh Lateral Entrance Examination (UPSEE)
1Gujarat Diploma To Degree Engineering Admission
1Karnataka Diploma Common Entrance Test (KarnatakaDCET)
1Odisha Joint Entrance Examination Lateral Entry Test
1Telangana State Engineering Common Entrance Test (TSECET)
1Haryana Lateral Entry Entrance Test (HaryanaLEET)
1Maharashtra Direct Second Year Engineering Admission
List Of Top 20 Government Colleges Offering Admission In Btech Via Lateral Entry
Following is a list of the top 20 government colleges that admit students into BTech lateral entry programs based on the score they get in the entrance exams. While these may be the top 20, candidates can also look for more government engineering institutes in different states across the country.
Indian Institute Of Engineering And Technology Lucknow
Kamla Nehru Institute Of Technology Sultanpur
Guru Gobind Singh Indraprastha University Delhi
Delhi Technological University
BharatiVidyapeeth College Of Engineering Delhi
Government Engineering College Kerala (Kozhikode, Kannur, Barton Hills, Thalappuzha Po, Sreekrishnapuram)
Government Rajiv Gandhi Institute Of Technology Kottayam
College Of Technology, Pantnagar University
APJ Abdul Kalam Institute Of Technology Tanakpur
1Chaudhary Ranbir Singh State Institute Of Eng. And Technology Haryana (Jhajjar)
1State Institute Of Engineering And Technology Karnal
1University Institute Of Engineering And Technology Rohtak, MaharshiDayanand University
1Assam Engineering College Guwahati
1Girijananda Institute Of Management And Technology Assam (Guwahati, Tezpur)
1College Of Engineering And Technology Bhubaneswar
1Indira Gandhi Institute Of Technology Sarang
1Government College Of Engineering Odisha (Kalahandi, Keonjhar)
1Jorhat Institute Of Science And Technology Assam
1Rajkiya Engineering College (Ambedkar Nagar, Azamgarh, Banda, Bijnor, Kannauj, MainpuriSonbhadra)
2Government Engineering College (All Campuses) Gujarat
List Of Top 10 Private Colleges Offering Admission In Btech Via Lateral Entry
| Sno. | Name of the College | Fees |
| --- | --- | --- |
| 1 | Lloyd Institute Of Engineering And Technology Greater Noida | 6 Lakhs |
| 2 | Lovely Professional University Punjab | 5-6 Lakhs |
| 3 | ManavRachna University Faridabad | 5.5-7.5 Lakhs |
| 4 | Thapar University Punjab | 10-14 Lakhs |
| 5 | Symbiosis Institute Of Technology Pune | 7.8 Lakhs |
| 6 | The University Of Energy And Petroleum Studies Dehradun | 17-20 Lakhs |
| 7 | Chandigarh University | 4.8-6.3 Lakhs |
| 8 | Sharda University Greater Noida | 7-10 Lakhs |
| 9 | Manipal Institute Technology Karnataka | 14.6-17 Lakhs |
| 10 | BharatiVidyapeeth Deemed University Pune | 3.82 Lakhs |
Step By Step Admission Procedure OfBtech Lateral Entry Courses
Step 1: Online Application
Students who wish to pursue Btech through lateral entry need to apply online for their preferred specialization along with other regular-entry applicants. Before applying, it is up to the candidate to ensure that the lateral entry specialization they choose aligns with the diploma/Bsc specialization offered against the course.
Step 2: Lateral Entry Exam
Most colleges and Institutions rely on state-level lateral entry exam scores to offer admission to candidates who fall in the cut-off bracket while some conduct their own entrance exam or even an interview in some cases. Checking the exam required, appearing for it, applying with the ranks, and all documents corroborating the same should be done from the candidate's end.
Private institutions sometimes lend the provision of direct admission to students, where they don't have to appear for any entrance exam to qualify for admission through lateral entry, and their previously pursued degree comes into play here. As high as their fee structures are, these institutions often have outstanding placement records and can benefit a student personally and professionally in inflating their net worth as an engineer.
Step 3: Admission Confirmation
Once the student has cleared the minimum qualification required for entry into BTech lateral entry programs, they can confer with the authorities during their counseling session and confirm their admission. Students are allocated a seat in the specialization that's eligible against their previous background in the diploma or BSc course.
List OfBtech Lateral Entry Courses Offered By Colleges
BTech in electrical and electronics engineering
BTech in cloud technology and information security
BTech in automobile engineering
BTech in artificial intelligence and machine learning
BTech in robotics and automation
BTech information science and engineering
BTech in mechanical engineering
BTech in software engineering
B Tech in Aeronautical Engineering
1BTech in embedded systems and industrial internet of things
1BTech in Computer Science and Engineering
1BTech in Mechatronics
1BTech in information science and Energy Management
1BTech in mechanical engineering
1BTech in civil engineering
1BTech in agricultural engineering
1B tech in biomedical engineering
1BTech in instrumentation and control engineering
Conclusion
In this article, we have covered just about everything you need to know before pursuing a BTech degree through lateral entry in India. From eligibility criteria, government entrance exams, government colleges, private colleges, and their fees, to the admission process, and the list of courses available, all information required for lateral entry BTech degree has been consolidated in one place.
The admission norms of colleges are sometimes revised annually and minor changes are updated in the guidelines. Interested students should keep themselves apprised of these alterations through official notifications released by universities.
Lateral entry admission is extremely advantageous for students who have professional diplomas in said courses as their basic knowledge about the course tops the knowledge imparted in the first year, thus giving them an upper hand career-wise. Having qualified dually, students usually set themselves up for lucrative growth opportunities with an added preference towards them, especially in the core job market.