Distinguished lecture series
1. International Lecture Series on "IT based Innovation in healthcare Informatics & Management" on February 17, 2023.
The Resource Person of the session was Dr. Sweta Sneha, Executive Director & Professor, Healthcare Management & Informatics, KSU, Georgia, USA.
The session focussed on how IT has led to innovations in the health care sector and also the related challenges were discussed. It was a knowledgeable session where students got to know how technology advancements can help in the healthcare system.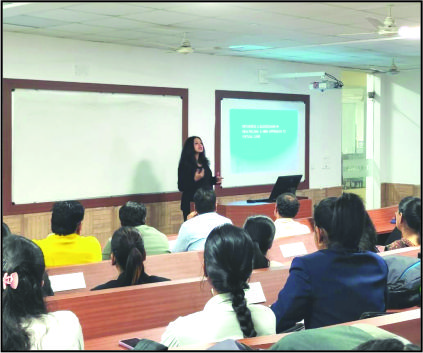 2. "Technology by itself doesn't make leaders it amplifies the leadership." Special lecture by Ms. Anubha Prasad, General Manager, SIDBI Along with coding, computing is one of the important aspects for problem solving through interdisciplinary approaches which need analysis, problem finding and validations through simulations.
3. Lloyd Institute of Engineering & Technology organized a webinar on "Role of Artificial Intelligence in Current Scenario" on 30th June 2022.
The keynote speaker of the session was Mr. Sourav Dutta, Data Scientist at Ericsson. He has an experience of 16+ years with MNCs such as IBM, TCS, Nokia, Siemens Networks. The session focused on advancement in technology highlighting the artificial intelligence and its role in present scenario. It was a very informative session for students and faculties.
4. Lloyd Institute of Engineering & Technology conducted a session on "Out of the box thinking for problem solving" from the Ministry of Education's Innovation Cell, AICTE on 28th June 2022.
Prof. V. Kamakoti, Director, IIT Madras was the keynote speaker. The session was very much informative for faculty and students.
5. Lloyd Institute of Engineering & Technology organized an Expert Lecture on "Cyber Security on Thursday, May 12, 2022. The Resource Person was Ms. Anisha Dubey, Business Development Manager, India and South Asia, SANS Institute, APAC.
The session focused on cyber security trends and highlighted its importance and its future aspects. Students had a great learning through this expert lecture and session ended with Question Answering
6. Lloyd Institute of Engineering & Technology is organizing a two day workshop on "Algorithmic Thinking & Problem Solving".
Algorithmic Thinking is a fundamental skill and it provides the foundations of Computational Problem Solving.
This workshop will make the students learn how to solve problems more effectively and address problems with a greater degree of complexity and difficulty.
The resource person will be Prof. S.R Subramanya from National University, San Diego, USA who is an Expert Facilitator with long and rich experience.
7. Lloyd Institute of Engineering & Technology organized a seminar on "How to prepare for an interview?" on 11th July 2022.
The keynote speaker for the session was Ms. Neeru Kapoor, SDE at Microsoft Corporation. The session focused upon the preparation for interviews. Students got to know about interview process and how they can perform well in such interviews during the placement process. It was an interactive session where student's queries were resolved