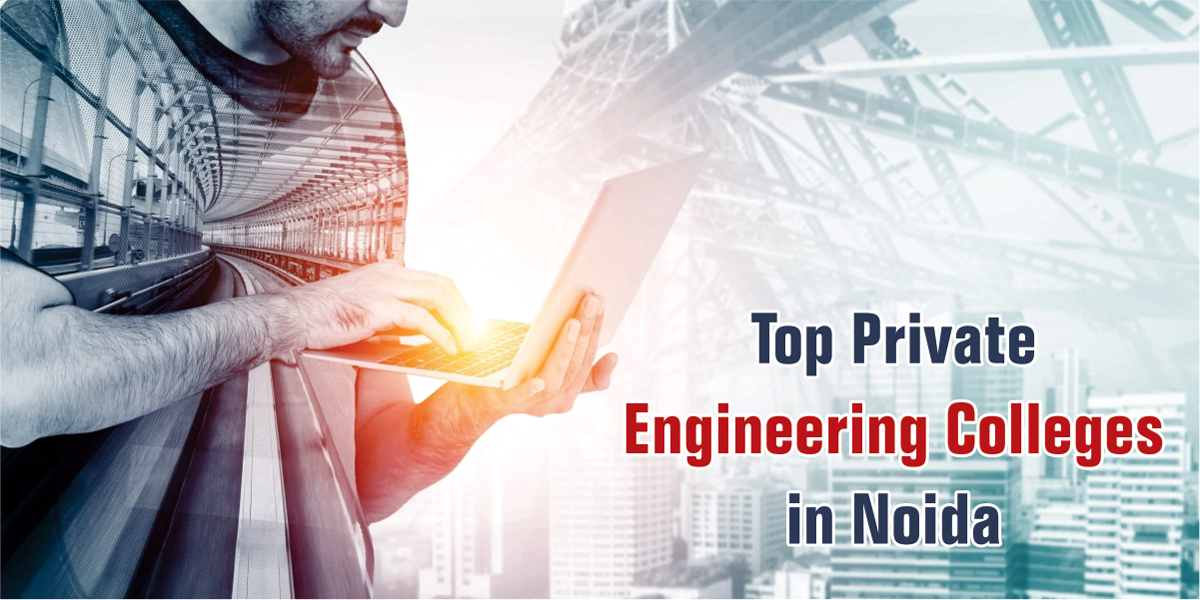 Top Engineering College in Noida, Greater Noida
Introduction
Engineering in India is known to be one of the most prestigious professions to go after. Whether you're a tech geek in making or a mighty explorer who likes getting to the root of things, going after this career can allow you to leverage your interests in the right direction. However, just interest is insufficient. Pursuing engineering in India demands a decent performance in +2 with non-medical stream subjects including physics, chemistry, and mathematics, along with qualifying for the national level engineering entrance exam- JEE. Being the most popular and competitive exam out there, hundreds of thousands of students appear for it every year. While many students aim for top institutions like IITs, NITs, and CFTIs, every student can't make it to these institutions because of the exceptionally high cut-off bracket. This limitation on seats calls for the need for private and affordable institutions offering engineering specialisations to B Tech aspirants.
Pursuing Engineering in Noida
As we know, Noida has become the fastest growing township in the Delhi \ncr region, not just in terms of industrial growth but its education facility too. The list of UGC approved colleges that have started offering a multiplicity of courses in Noida and the Greater Noida area are increasing rapidly. The verdant scenery and newly exploited opportunities can be the biggest catch that students might require to entirely harness their capabilities. Keeping this in mind, let us look at the topmost private colleges in Noida that offer engineering courses to students.
Top 20 Private Engineering Colleges In Noida With Fee Structure
The top 20 colleges that offer B tech courses to students are mentioned below. Other than these there are various other colleges situated in the modern Township of Noida can and Greater Noida. The students can select the best college for Engineering in Greater Noida based on their preference and other suitable factors.
| Sno. | Name Of The Institution | Average Annual Course Fee |
| --- | --- | --- |
| 1 | GL Bajaj Institute of Technology and Management | 5.4 Lakhs |
| 2 | Lloyd Institute of Engineering and Technology | 1.3 Lakhs |
| 3 | Shiv Nadar University | 9.5 Lakhs |
| 4 | Amity School of Engineering | 8.64 Lakhs |
| 5 | Sharda University | 7.71 Lakhs |
| 6 | Galgotia College of Engineering and Technology | 4.72 Lakhs |
| 7 | JSS Academy of technical education | 4.80 Lakhs |
| 8 | Jaypee Institute of Information Technology | 10.67 Lakhs |
| 9 | Delhi Technical Campus | 0.7 Lakhs |
| 10 | IEC College of Engineering and Technology | 3.59 Lakhs |
| 11 | Greater Noida Institute of Technology, Engineering Institute | 4.35 Lakhs |
| 12 | ITS Engineering College | 5.28 Lakhs |
| 13 | Mangalmay Group of Institutions | 4.17 Lakhs |
| 14 | IIMT College of Engineering | 4.65 Lakhs |
| 15 | JIMS Engineering Management Technical Campus | 0.85 Lakhs |
| 16 | Dronacharya Group of Institutions | 3.24 Lakhs |
| 17 | Apeejay Institute of Technology | 4.37 Lakhs |
| 18 | United College of Engineering and Research | 4.68 Lakhs |
| 19 | KCC Institute of Technology and Management | 3.79 Lakhs |
| 20 | Accurate Institute of Management and Technology | 1.23 Lakhs |
List of Top 15 B Tech specializations offered
B Tech specializations offered in Noida as well as all over the country are in heaps. However, the most common specializations offered by almost all universities I mentioned below:
B Tech In Computer Science Engineering
B Tech In Mechanical Engineering
B Tech In Civil Engineering
B Tech In Electrical Engineering
B Tech In Electronics And Communication Engineering
B Tech In In In Aerospace Technology
B Tech In Biotechnology Engineering
B Tech In Textile Engineering
B Tech In Industrial Engineering
B Tech In Marine Engineering
B Tech In Construction Engineering
B Tech In Robotics
B Tech In Petroleum Engineering
B Tech In Metallurgical Engineering
B Tech In Agricultural Engineering
Eligibility Criteria To Pursue Engineering In Noida
Irrespective of the geographical location of the campus, the common eligibility criteria for engineering students remains the same across all colleges. Sometimes there are minor changes or additional requirements as per the university affiliation, but the usual criteria are mentioned below:
The candidate must have studied physics, chemistry and maths at +2 level.
The applicant should also have secured a minimum of 45 to 50% in class 12th for the unreserved category. For reserved quota, there is a 5% relaxation in the required percentage.
The candidate must have qualified there 12th from a recognised Board of education such as CBSE or State Board.
The applicant must have cleared an Engineering entrance exam that is accepted by their preferred university.
In the case of direct admissions, the student should satisfy the admission criterion mentioned by the college, such as interview, group discussion or written test.
Apart from these, any other requirement listed as per the university norms that hold the affiliation should be adhered to.
Top 5 Reasons Why You Should Study Engineering In Noida
Noida has rightfully become the hub of opportunities when it comes to higher education because of a sudden market shift in the region and the growing popularity of the educational institutions situated in this township.
Since these are mostly private institutions, they have tie-ups and collaborations with leading companies and hold the potential to offer promising as well as rewarding placement packages.
The picturesque beauty and pleasing environment of the city is becoming the point of attraction for students as along with studying in these top institutions, they can also experience a distraction-free, quiet, and scenic atmosphere.
Industry integration measures are steadily Being embedded in some areas of Noida and Greater Noida. This means an extended scope of benefits, field visits, internship and placement opportunities and much more that can lead to significant career advancement.
The affordability of engineering colleges in Noida can be far better than colleges situated in Delhi NCR due to various several geographical factors such as population, the number of colleges etc. This means that more and more students can pursue engineering without worrying about the inflated fees structure.
Conclusion
By now you must have understood the scope of Engineering in India especially in the era where digital transformation is increasing day by day. The highly competitive nature of Engineering entrance exams and limitations of seed in top B tech institutions Have compared the students to go for private colleges offering their desired specialisation. students from various States migrate to Delhi NCR in hopes of securing admission in IITs and NITs, leading to a further slump in admission rates.
To provide a feasible solution for engineering students in this article we have compiled the list of top 20 colleges situated in Noida and Greater Noida that offer graduate and postgraduate courses in engineering to its applicants. Students can refer to the aforementioned fee structure alongside each institution and find the ones that suit their budget and affordability the best. There are a lot of factors that a candidate should take into consideration while selecting their preferred college. from university affiliation to infrastructure, and research potential to placement, the final decision is based substantially on these.
Another crucial factor that a student must evaluate is industry collaboration. To state one, Lloyd Institute of Engineering and Technology has come up with its groundbreaking Cooperative education program that facilitates its students to get placed and earn while they are still in graduation. More than 30 Indian and global companies have partnered with Lloyd to provide early replacement opportunities, and an enriching track record to open new doors for their students in the future.