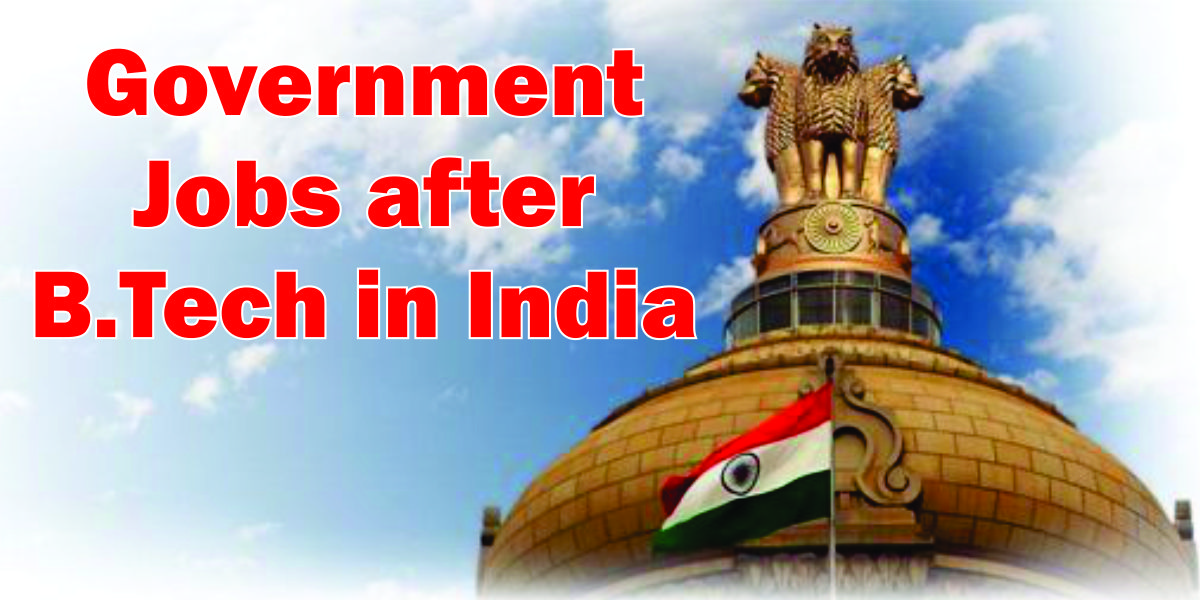 Government jobs after B tech in India – All about it
Introduction
In engineering, you don't just study technical things, you also gain moral and intellectual values that go a long way in giving a concrete shape to your future. Engineering opens up a lot of job potential in the private as well as government sectors. As we all know, jobs in the government sector are very much in demand. Its various benefits like high job security, lucrative perks, higher promotional avenues, high stature jobs, low stress, and restricted job timings trump everything else. You can get a government job after BTech as much as you can from other industries. All you need to do is crack the exams and hit the happiness button of your life! Let us look at government Job opportunities after BTech:
1.Defence Services
Indian Defence Services are known to be one of the most respected and prestigious services out there. The amount of perks in this job is insane, from accommodations and promotions to medical benefits as well as their famous in-house canteens. The pay scale is pretty great too. You can apply to the Indian Army, Indian Navy, Airforce provided you pass the SSB test, and are medically fit. Getting recruited at these posts comes with high status and a respectable salary. It also has a University Entry Scheme through which a student who is pursuing engineering and is in the last year of their studies, is eligible to apply for this type of entry.
2.Scientists (Research and Development)
ISRO, DRDO, BARC, and some other firms recruit the cream candidates every year. For this, you will have to either clear the GATE exam, or the one they conduct. As they have a very active and strong work environment, the competition is pretty high. Although the job is highly demanding, nonetheless the benefits like lucrative salary and dynamic work environment make it worth your time, effort, and investment.
3.Public Sector Undertakings (PSU)
As quoted by javatpoint, "PSU stands for Public Sector Undertaking. The government-owned corporations are known as Public Sector Undertakings (PSUs) in India. PSUs are created by the government to undertake commercial projects under its own banner."
You can apply to PSUs by giving the GATE examination. This will give you access to companies like BHEL, ONGC, SAIL, IOCL, etc. These companies actively recruit eligible engineering candidates every year. The growth potential at PSUs is enormous. Since these companies are not much focused on profits, you will work actively towards the development of your nation.
4.UPSC (Union Public Service Commission)
This is by far the most prestigious examination in the country. Every Single Year UPSC conducts the Engineering Services Examination, which is one of the toughest examinations to crack, held in India. You can also apply for foreign universities after clearing GATE to get a job in this sector.
5.Central Bureau of Investigation
Getting a job in CBI is highly exceptional. It is popular for its superb services with handsome pay scales and medical benefits. Further, it offers good promotional opportunities. The entry to CBI opens via two exam bodies, UPSC and SSC.
6.Indian Railways
The Railway departments of India organize entrance examinations once a year for the recruitment of qualified candidates in the railway sectors. The railway aspirants can work under the signal section of Indian railways. The two important job profiles are Senior Section Engineer (SSE) and Junior Engineer (JE), and the conducting body of these exams is RRB. The job is very stress-free and comes with its own perks and benefits.
7.SSC CGL
SSC CGL is a Government-run agency responsible for recruiting staff to different Governmental Departments and organizations. There are vacancies for group b and nontechnical Group c posts and different ministries departments under a central government where specifically engineers are employed. SSC recruits on a very large scale every year, offering a variety of posts like Income Tax Inspector, Excise Inspector, and so on. The advantage of these jobs is that it has an extremely high number of vacancies and vacancies are opened very frequently.
8.Banking Sector
The banking sector recruits for the post of Clerks and Probationary Officers (PO) on a very large scale every year. PO post is a highly reputed job with lucrative perks, high power, and authority, and various other benefits. Getting recruited as a PO in Government sector banks may be a dream nurtured by a large number of Engineers. This is one of the most popular options since the work pressure is extremely less and perks are considerably good.
9.Clerical Personnel or IT Officer in Public Sector Banks
People working at clerical positions in public sector banks enjoy benefits like having more than a reasonable pay scale, stress-free workdays, cyclic promotions and security of the job, stress-free work, and other benefits combined. Getting hired as a Clerk provides a very good pay scale, job security, low stress, promotional opportunities, and numerous other benefits. Even though it is an entry-level position, it provides good perks as well as various other allowances much better than the private sector.
Moreover, Every year, a large number of vacancies are released for the post of IT officers who will be responsible for developing and implementing technology solutions in the organization. Its Officers are recruited through various exams conducted by different Banks. Officers enjoy a very respectable pay scale, good reputation in society, low-pressure jobs along with numerous other benefits.
10.Banking and Financial Sector
RBI conducts its examination for various posts such as assistant and Grade B officer. These jobs are highly respected in society and are extremely competitive. You will need to work really hard for this. The pay is basically excellent during this and therefore the tag of RBI is at another level. Another government regulatory body under the government of India is the Securities and exchange board of India (SEBI), which conducts its examination for Grade A officers every year. Even though the exams are highly competitive, working under the Government of India has its own charms and benefits.
Conclusion
Getting a government job is not an easy task in India especially if you don't prepare exclusively for it. You have to work extremely hard and sharpen your technical and non-technical skills before you can apply. This is because you won't be able to apply repeatedly for this year after year since the upper age limit is 27 years(more or less) for government jobs in India. Thus, if you're from an engineering background and do not want to get yourself trapped in the corporate culture of 9-5, and need a more relaxing and highly positioned, responsible job, then this article is just what you need to read.